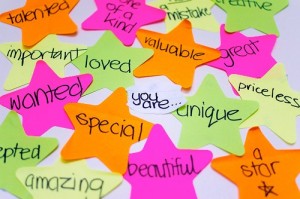 Change your life: A quick confidence booster
7 July, 2014
By Annabel Sutton
Natural Health News
It doesn't matter how positive, upbeat or confident you are as a person, there are going to be times when you feel quite the opposite.
This can often be the result of someone saying or doing something that knocks your confidence and makes you doubt your abilities. Sometimes there doesn't even have to be a specific reason – we just 'get the blues' – nothing seems to go right,  and our confidence falters.
So what's the best way to deal with this?
Over the years, I've found that one of the quickest remedies is to have something handy that serves as a reminder of how great you really are. I often advise my clients to start collecting things that make them feel good – and that remind them of all their special qualities, unique abilities and talents.
"Nobody can make you feel inferior without your consent." — Eleanor Roosevelt
It could be a loving or encouraging letter that someone has sent you – or an uplifting card or email. Or perhaps a photo which recalls a time when you were feeling on top of the world.
Keep these reminders handy – in a box, file or drawer (or a special folder on the computer) – and whenever you're feeling a bit down, simply reach for it and read the contents.
I have a 'Feel Good Folder' which sits by the side of my desk,  labelled "in case of emergency open and read immediately!"
One of my clients has a collage on her wall – pictures, photos, phrases, words, inspiring quotes – a gallery of all the people who love her and think she's wonderful.
It's remarkable how easy it is to forget all the positives – and especially so when you're feeling a bit down. These reminders will go a long way towards restoring your confidence and sense of well-being.
Annabel Sutton is a Professional Certified Coach and Author.  She has lived in Los Angeles and Indonesia; survived earthquakes and riots, lived with head-hunters and enjoyed a portfolio career.  She now enjoys a somewhat quieter life in Somerset!  Her latest book, 52 Ways to Transform Your Life (Weekly Wisdom for Busy People), contains 52 inspiring, quick-to-read life tips and is available from http://amzn.to/2nSdMb2 . Find more information at  www.annabelsutton.com.