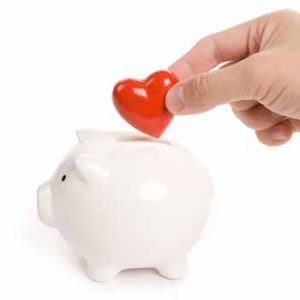 Change your life: Emotional bank account
19 January, 2015
By Annabel Sutton
Natural Health News
Those of you who have read Stephen Covey's book "the Seven Habits of Highly Effective People" will recognise this term.
And it's a good one to ponder today, Blue Monday, sometimes even known as Divorce Monday. Researchers say that a combination of short days – thus lack of sunlight – lowered immunity, and the the after effects (financially and emotionally) of the holidays combine to make it the most depressing day of the year and one of the most stressful for relationships.
So here's a thought on how to address at least some of that sadness.
Covey suggests that in our relationships we build up a strong and healthy 'bank account' with others by consistently 'making deposits' through acts of kindness, consideration, honesty, keeping commitments, thoughtfulness and so on.
Equally, by treating someone unkindly, criticising, breaking promises, betraying trust, your account diminishes and is in danger of becoming overdrawn.
One of the ways Covey suggests to build up your bank account with the special people in your life is through 'Understanding the Individual'. Part of this is understanding that what might constitute a deposit for you, might not do so for them. It also means making what is important to the other person as important to you.
"In our African language we say 'a person is a person through other persons.' … We are made for a delicate network of relationship, of interdependence. We are meant to complement each other. All kinds of things go horribly wrong when we break that fundamental law of our being." — Desmond Tutu
Covey writes: "I have a friend whose son developed an avid interest in baseball. My friend wasn't interested in baseball at all. But one summer, he took his son to see every major league team play one game. The trip took over six weeks and cost a great deal of money.
My friend was asked on his return, 'Do you like baseball that much…?'
'No', he replied, 'But I like my son that much'… "
This had a profound impact on me when I read it.
For years my partner and I have been engaged in a bit of a power struggle over cleaning the house! A spotless house is very important to him, and I had tended to rebel when he wanted me to make more of an effort in that direction. Reading Covey's words stopped me in my tracks. His desire for a clean house suddenly became more important to me as well.
Is there some way that you can apply this to your life this week?
Annabel Sutton is a Professional Certified Coach and Author.  She has lived in Los Angeles and Indonesia; survived earthquakes and riots, lived with head-hunters and enjoyed a portfolio career.  She now enjoys a somewhat quieter life in Somerset!  Her latest book, 52 Ways to Transform Your Life (Weekly Wisdom for Busy People), contains 52 inspiring, quick-to-read life tips and is available from http://amzn.to/2nSdMb2 . Find more information at  www.annabelsutton.com.