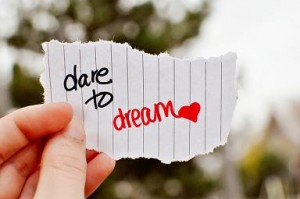 Change your life: "If I really had my way…"
3 November, 2014
By Annabel Sutton
Natural Health News
I allowed myself to take just one personal development book with me on holiday this year.
One question from the book really leapt out at me and I find that I just can't budge it – I keep thinking about it. The question was: "If I really had my way I would …"
There's something wonderful about this question. It leads you into a land of infinite possibilities – of dreams – it takes you back to being in that childlike state where everything feels completely possible.
Too often it can feel as if life in the 21st century is swamping and constricting us.
We're just all too busy to dream and certainly too busy to act on our dreams. So, as we enter the final quarter of the year, here's an exercise which will allow you to carry on the optimism of the summer and dream a little …
"To live a creative life, we must lose our fear of being wrong." – Joseph Chilton Pearce
Step one Take a pen and paper and write "If I really had my way, I'd … "  at the top of the page. Then write as many responses to it as you can. Have fun with it. Please don't edit or censor anything. Just scribble anything and everything that comes to mind no matter how ridiculous, wild or unachievable it may feel.
Step two At this point, perverse creatures that we are, common sense tends to kick in and our natural inclination is to throw up all kinds of objections like: "'I couldn't possibly do that" or "That's an insane idea"2 or "I'm far too old to even think of attempting that".
So, to bypass this, for each item you've written ask yourself:
"OK, so how could this be possible?' or "What part of this might be possible?". Embrace the possibilities.
Step three Choose at least one item from the list (more if you like) and formulate five action steps you can take towards making it a reality.
Annabel Sutton is a Professional Certified Coach and Author.  She has lived in Los Angeles and Indonesia; survived earthquakes and riots, lived with head-hunters and enjoyed a portfolio career.  She now enjoys a somewhat quieter life in Somerset!  Her latest book, 52 Ways to Transform Your Life (Weekly Wisdom for Busy People), contains 52 inspiring, quick-to-read life tips and is available from http://amzn.to/2nSdMb2 . Find more information at  www.annabelsutton.com.