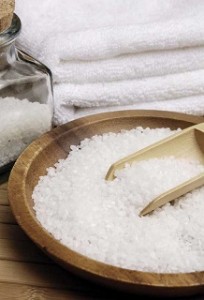 Make-at-home treats for a beauty boost
29 May, 2014
By Suzanne Colston-Lynch
Natural Health News
You know how it is – especially this time of year. Your skin needs bit of a lift but you've run out of 'product'.
Making your own is easy so why not try turning your kitchen into a beauty bar with these do it yourself recipes.
Seaweed Detox Body Scrub
Warmer weather means it's time to peel off those layers to reveal our 'winter' skin. To show your skin at it's best the perfect treat is this simple body scrub. You'll need:

100g (3 oz) Dead Sea salts – Rich in cleansing minerals
40ml  (2 ½ tbl) almond oil – Skin softening
10ml ( 2 tsp ) rosehip seed oil – Skin repairing
1 tbl green clay – Purifying, detox
2 tsp spirulina powder – Rich in nutrients, minerals and a great lymphatic stimulant
4 drops of grapefruit , 2 drops of cypress and 2 drops of juniper essential oils – Helps to stimulate micro circulation and eliminate excess fluid
Mix all the ingredients well before use. Gently massage into dam skin and rinse with tepid water. Pat skin dry.

Replenishing Facial Mask
During the harsh winter months facial skin has been exposed to cold, wind and indoor heating. as the seasons change it's good time to replenish and revive your complexion.
Avocado, which forms the base of this make-at-home mask, is rich in skin loving essential fatty acids and vitamin E. This mask benefits all skin types.
Blend a ripe avocado into a creamy base, then add:
10ml (2 tsp) rosehip seed oil – High in Vitamin A and C to repair damaged skin
10ml (2 tsp) grapeseed oil – Rich in antioxidants to protect delicate skin
1 drop frankincense essential oil – Anti-ageing and purifying
1 drop rose essential oil – Hydrating and anti-redness
1 drop lavender essential oil – Skin healing and antibacterial
Apply to clean skin and leave for 20 minutes. Take the time to rest if you can and let the mask to do its work. Gently rinse off with tepid water and pat skin dry.
Shiny Hair Treatment
This recipe puts the shine and life back into winter worn locks and helps lift your mood as well!. You'll need:

40mls (2 ½ tbl) virgin coconut oil – Helps reduce protein loss in processed hair also locks in moisture
10mls (2 tsp) argan oil – Increases the elasticity and strength of damaged hair
4 drops cedarwood essential oil – Stimulates healthy hair growth
2 drops jasmine essential oil – Evocative of a warm Mediterranean island
1 drop lime essential oil – Adds a fresh invigorating tropical note
Invigorating Essential Oil Blend
This is my favourite blend to blow away the cobwebs and create an energising and invigorating breeze. In your essential oil diffuser blend:
3 drops rosemary essential oil – To invigorate the mind
4 drops grapefruit essential oil – Mentally enlivening
1 drop cypress essential oil– Helps to facilitate changes in life and bring about transformation
4 drops neroli essential oil – Creates feelings of positivity
1 drop eucalyptus citriodora – Invigorating, aids nervous tension