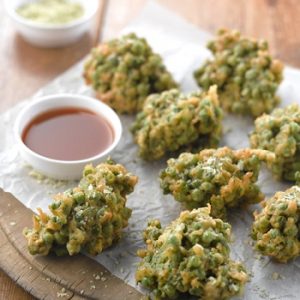 Wasabi pea fritters
18 May, 2017
By Staff Writer
Natural Health News
If you want a mouthful of something light that still packs a flavour punch, these little fritters are the answer.
Green peas, are available frozen all year round, but this time of year they are in season and available to buy fresh in their pods too.  They are packed full of fibre, vitamins K and C and manganese. Late spring/early summer is when they have the best flavour and are usually the least expensive.
The recipe – which makes approximately 20 fritters – comes originally from Linda McCartney (late wife of Sir Paul) who can justifiably be credited with flying the veggie flag long before it became fashionable.
Ingredients
For the thick batter
115g plain flour, sifted
2 medium free range eggs, beaten
450g frozen petit pois
2 tsp Wasabi powder mixed with a little water
¼ tsp ground black pepper
2 tbsp fresh flat leaf parsley, chopped
1 small clove garlic, chopped
1cm piece fresh ginger, peeled and finely grated
2 tsp soya sauce to taste
For frying
To serve
extra wasabi powder and crushed sea salt and chilli dipping oil
Method
1 To make the batter: place the flour in a mixing bowl and make a well in the middle.
2 Pour in the beaten eggs and carefully mix together to avoid making lumps.
3 Add the remaining ingredients (except the frying oil) and mix together – the consistency should be quite thick.
4 Pour 10cm (1/2 inch) of vegetable oil into a large frying pan and heat it until a little of the batter dropped into the oil sizzles immediately.
5 Place 1 tablespoon of the batter at a time into the oil. Keep the fritters apart in the pan and fry until they are golden brown on both sides, about 4-5 minutes for each side. Repeat until all the batter has been used.
6 Drain the fritters on kitchen paper and sprinkle with wasabi powder and crushed salt to taste. Keep them warm in a moderate oven until you have cooked them all and are ready to serve with the dipping oil.
The Vegetarian Society Approved trademark is the original and only one to trust. The only legally licensed vegetarian trademark, you can ensure that where you see its logo, all products have passed through its strict criteria and can be guaranteed 100% vegetarian. To find out more visit http://www.vegsocapproved.com/
© Copyright Linda McCartney 1998 & The Vegetarian Society Cookery School