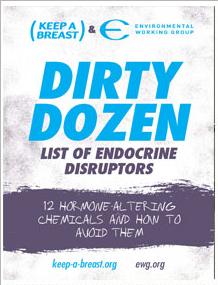 New guide gives consumers the low-down on toxic chemicals
4 November, 2013
By Staff Writer
Natural Health News
Natural Health News — A startling new guide has highlighted some of the most problematic hormone-altering chemicals that people are routinely exposed to.
To pull the list together the Environmental Working Group (EWG) , known for creating the popular and widely used Dirty Dozen list of the most pesticide-contaminated produce, partnered with Keep A Breast Foundation (KAB) to identify the worst endocrine disruptors and highlight the prevalence of these toxic chemicals, how they affect our health and simple ways to avoid them.
"We were so thrilled to provide a grant to the Environmental Working Group for their work and research on this educational piece about endocrine disruptors in the environment," said Shaney Jo Darden, founder of the Keep A Breast Foundation.
"The scientific data and reports that exist on this information needs to be made easy to read, easy to understand, and broken down in a way that empowers people to become activists. I am positive that this Dirty Dozen Endocrine Disruptor guide will be able to do just that."
"We are all routinely exposed to endocrine disruptors, and this has the potential to significantly harm the health of our youth," said Renee Sharp, EWG's Director of Research.
"It's important to do what we can to avoid them, but at the same time we can't shop our way out of the problem. We need real chemical policy reform."
Polluted bodies
EWG researchers compiled the new list by scouring the scientific literature and identifying the most hazardous and widely used hormone-disrupting chemicals that pollute the environment and ultimately our bodies.
These substances are frequently found in food, water and consumer products, and studies have linked them to a wide array of health problems, including cancer, birth defects, lowered sperm count, lowered IQ and thyroid disease.
The new Dirty Dozen list includes BPA, phthalates and other well-known endocrine disruptors that are widespread in consumer products such as plastic containers, food cans and fragrances. The list also includes common contaminants that many people don't realize can be hormone disruptors, such as arsenic, mercury, lead and others that are less familiar, such as glycol ethers and perfluorinated chemicals.
A guide to alternatives
Following discussions with key Congressional staff concerned about increasing exposure to endocrine disruptors, the organisations went further to produce a downloadable booklet which provides helpful tips on how to avoid many of these chemicals – such as eating organic produce, filtering water and avoiding fragrance – but the truth is that some of these chemicals are so ubiquitous that reducing exposure may be quite difficult.
The guide is intended for consumers of all ages, particularly young people who are most at risk from these dangerous chemicals.
Ultimately, say EWG and KAB, the only solution is regulatory reform to prevent these and other toxic chemicals from coming on the market in the first place.
In the US the federal Toxic Substances Control Act of 1976 was intended to protect consumers from toxic chemicals, but say the campaigners, the law is acknowledged to be deeply flawed by virtually the entire public interest community and by a number of leading medical professional associations, including the American Academy of Pediatrics and the American Congress of Obstetricians and Gynecologists.
Although aimed at a US market the risks attached to the hormone disrupters highlighted in the new Dirty Dozen list are relevant to countries throughout the developed world where they are widely used in consumer products and in industry.