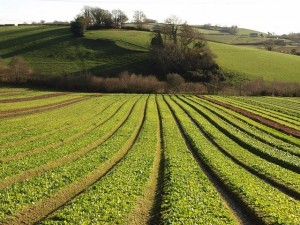 It's true, organic farming really can feed the world
10 October, 2011
By Staff Writer
Natural Health News
Natural Health News — The Rodale Institute has just published the results of a 30-year study showing that – in terms of yields, economic viability, energy usage and human health – organic farming is better than conventional farming.
The Farming Systems Trial (FST) at the Rodale Institute is America's longest running, side-by-side comparison of organic and chemical agriculture. It began in 1981 to study what happens during the transition from chemical to organic agriculture, the FST surprised a food community that still scoffed at organic practices.
Newly published data from the trial shows that:
Organic yields match conventional yields
Organic outperforms conventional in years of drought
Organic farming systems build rather than deplete soil organic matter, making it a more sustainable system
Organic farming uses 45% less energy and is more efficient
Conventional systems produce 40% more greenhouse gases
Organic farming systems are more profitable than conventional
Yields from organic agriculture in developing countries have long been shown to be superior to those of conventional farming systems. The data has not always been so clear, however, in the developed world.
But this report shows that after an initial decline in yields during the first few years of transition, the organic system soon rebounded to match and in some cases surpass the conventional system.
The results are impressive and the report concludes with these comments:
"Today we produce food within a system that is broken. Within roughly seventy years, our current chemical-based agricultural system is already showing its weaknesses – depleted soil, poisoned water, negative impacts on human and environmental health, and dysfunctional rural communities.
"We should be directing our valuable time and resources working towards a truly sustainable food production system based on sound biological principles.
"To repair our food system, we must focus on the basics – soil health and water quality – and how we can improve upon these natural resources so that we return as much as we take, thus ensuring our future.
"By building and improving soil health, utilizing organic practices to fix nutrients in the soil, encouraging biodiversity, and greatly minimizing synthetic inputs, organic producers are ensuring the sustainability of the system indefinitely. Not just feeding the world's growing population today, or tomorrow, but far into the foreseeable future."
The Rodale Institute was founded in 1947 by organic pioneer JI Rodale to study the link between healthy soil, healthy food and healthy people. It is committed to groundbreaking research in organic agriculture, advocating for policies that support farmers, and educating people about how organic is the safest, healthiest option for people and the planet.