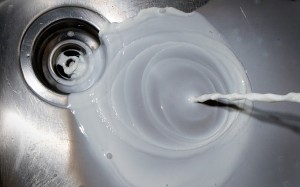 Cut 'avoidable' food waste to cut greenhouse gases, say scientists
14 May, 2012
By Staff Writer
Natural Health News
Natural Health News — Milk poured down Britain's kitchen sinks each year creates a carbon footprint equivalent to thousands of car exhaust emissions, research shows
Scientists say the 360,000 tonnes of milk wasted in the UK each year creates greenhouse gas emissions equivalent to 100,000 tonnes of CO2. The study by the University of Edinburgh says this is the same as is emitted by about 20,000 cars annually.
Some 99% of milk thrown away by British consumers is "avoidable waste" say the study team. Almost half of this waste is a result of too much being served, with the rest discarded for being sour or past its sell-by date.
Simply specifically nitrous oxide which is about 300 times more potent than carbon dioxide and is rising globally as a result of agricultural expansion.
But the researchers, writing in the journal Nature Climate Change, also suggest the food industry could reduce emissions by seeking more efficient ways to use nitrogen-based fertilisers. These suggestions may seem like small actions, but they are at least within the realm of the possible for most of us.
Cutting back on meat
The study also found that halving the amount of chicken consumed in the UK and other developed countries to levels eaten in Japan could cut greenhouse gas emissions equivalent to taking 10 million cars off the road.
Figures show that if average chicken consumption in developed countries fell from the current level of 26kg each per year to the Japanese average of about 12kg each by 2020, global emissions from poultry would fall below current levels, despite increased output from the developing world.
This would cut the predicted global output of nitrous oxide, a key greenhouse gas, from this source by almost 20%, based on current growth rates.
Demand for food, particularly meat, is expected to increase over the next few decades as the world's population continues to grow and emerging countries consume more.
Beyond CO2
Agriculture is the biggest source of nitrous oxide, a powerful greenhouse gas that is emitted by soil and fertilisers. Producing meat produces more emissions than growing crops, as large amounts of cereals are grown to feed livestock.
According to Dr David Reay at Edinburgh University, who led the study: "Nitrous oxide is the major greenhouse gas from agriculture. It stands out as the gas you can really reduce in terms of emissions if you can cut down on agricultural waste and increase agricultural efficiency. Eating less meat and wasting less food can play a big part in helping to keep a lid on greenhouse gas emissions as the world's population increases."
Cutting back on meat is not only good for the environment − it has health benefits for us too. For some easy ideas and inspiration − even if you only want to cut back by just one day a week − check out the websites of groups like Meatfree Monday in the UK, the campaign run Paul McCartney and his family and Meatless Monday in the US, a project of Johns Hopkins Bloomberg School of Public Health.