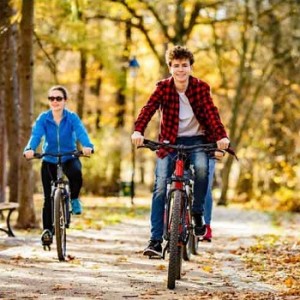 Access to nature lowers rates of obesity and depression
23 March, 2017
By Staff Writer
Natural Health News
Natural Health News — Spending more time in nature can reduce your risk of being obese or depressed, a new report suggests.
As a result, say the scientists who reviewed hundreds of studies to reach their conclusions, it can even slash the chance of an early death by 16%.
The report was originally compiled by the Institute for European environmental policy (IEEP). Researchers there spent a year reviewing more than 200 academic studies on the links between nature and health resulting in one of the most wide-ranging examinations to date on this topic.
That document was published autumn 2016 and picked up by the environmental NGO Friends of the Earth Europe which further augmented it by focussing on the links between nature-related health outcomes and income inequality.
This showed further benefits even in deprived neighbourhoods where risks of both obesity and poor mental health are statistically much higher.
What you need to know
» A growing body of evidence now shows that exposure to nature is essential for our health and wellbeing.
» A new report shows that even in deprived areas, where health challenges are statistically higher – and harder to treat – access to nature can reduce the risk of obesity, depression and early death.
» Campaigners are calling on policymakers to recognise access to nature as a fundamental human right, and to increase efforts to provide accessible and well maintained natural areas for particularly disadvantaged groups.
Vital to health
According to a growing body of evidence, health inequalities are linked to access to nature and access to nature is vital for good mental and physical health at all ages.
The FOE report cites research that 26% of England's black and minority ethnic populations visit natural environments less than three times a year, compared with 15% of the rest of the population.
It points to a strong link between lack of access to nature areas and poor health outcomes and inequality. It associates nature deprivation with higher obesity levels, mental health problems, and mortality rates.
As a result, it says, access to nature as being inextricably linked to wealth inequality, because deprived communities typically have fewer natural environments within easy reach.
It calls for access to nature to be recognised as a fundamental human right, and for increased efforts to provide accessible and well maintained natural areas for particularly disadvantaged groups.
Previous research
There is now a huge amount of data to show that time in nature is important for our wellbeing.
Exposure to nature has been shown to switch the body into "rest and digest" mode where it can nourish, repair and promote well-being
In 2016 scientists from Australia and the UK say a 'minimum dose' of nature for us all could significantly reduce rates of depression and high blood pressure.
In another study, taking your exercise regime out of the gym and in the park was found to cut to the risk of suffering from poor mental health by half.
Previous US research has found that that simply giving hospital patients a window with a view of trees meant they recovered faster and were discharged a day earlier than those whose rooms faced walls.
How nature helps is multifaceted but one intriguing study found that 'forest bathing' – essentially walking in a forest environment – exposes you to 'friendly bacteria' and other natural substances that can help protect your health.
"The evidence is strong and growing that people and communities can only thrive when they have access to nature," said Robbie Blake, a nature campaigner for Friends of the Earth Europe, which commissioned the analysis.
"We all need nature in our lives, it gives us freedom and helps us live healthily; yet deprived communities are routinely cut off from nature in their surroundings and it is suffocating for their well-being."