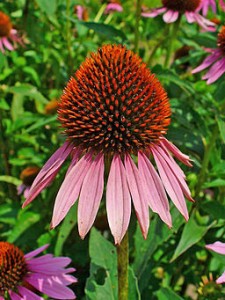 Echinacea effective in preventing and treating colds
23 October, 2012
By Staff Writer
Natural Health News
Natural Health News — The largest ever prevention trial using Echinacea has shown that an extract of the herb can significantly reduces the number and duration of colds.
The study was carried out by researchers from the Common Cold Centre in Cardiff University and was published in the open access, peer-reviewed medical journal Evidence-Based Complementary and Alternative Medicine. It claims to be the first clinical trial to investigate the safety and efficacy of long-term preventative treatment with Echinacea.
The  four-month trial involved 755 adults with a history of two or more colds a year. The participants were divided into two groups. One was treated with Echinaforce – an extract of Echinacea purpurea. The other half was given a placebo tincture that looked and tasted the same as the active treatment.
Study participants took three doses of 0.9ml daily; this corresponded to 2,400mg of Echinacea extract per day. That dose was increased to five daily doses if they experienced cold symptoms.
Each dose was diluted in water and held in the mouth for 10 seconds, a method described by researchers as having "maximum local anti-viral effects".
Impressive benefits
Overall results showed that:
There was a 59% reduction in recurring cold infections in the Echinacea group compared with placebo
The number of colds and their duration was 26% lower in participants given Echinacea
The authors also found that significantly more people (52%) in the placebo group used aspirin, paracetamol, or ibuprofen to treat their cold while in the study, when compared to those in the Echinacea group
The effects of Echinaforce were particularly marked in those whose immune systems were weaker due to increased stress levels, poor sleep or smoking. For example, those with increased levels of stress in the placebo group suffered 66% more colds, while smokers in the placebo group suffered 82% more colds.
Based on their data the authors Echinacea conclude that is useful for:
Short-term prevention during times of increased stress and poor sleep
Long-term prevention throughout the winter season, especially useful in people more susceptible to colds and flu
Acute treatment at the first signs of symptoms – by blocking inflammation and viral replication at this stage, the development of further cold symptoms can be limited, reducing the need for painkillers, cough medicines and antibiotics.