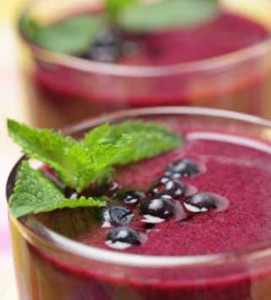 Super defence smoothie
5 November, 2013
By Staff Writer
Natural Health News
This quick to make smoothie is perfect when you are laid low with a bug or cold.
It helps keep your body hydrated body and while its potent herbal extracts help your body defend against viruses. Easily digested berries provide vital nourishment and antioxidant support just when you need it most.
It has no added sugar so won't spike your blood sugar or depress immunity the way some super sweet commercial smoothies and fruit drinks will.
And if you're not sick? We think it's just too good to save just for when you are feeling down so try it as a fantastic light breakfast or lunch or post exercise pick-me-up.
Every ingredient had a purpose, thus in this mixture the coconut water in this drink helps super hydrate the body and balance electrolytes – helpful properties when you have a fever. Fresh or frozen blueberries and raspberries provide antioxidant support for the immune system while the goji berries and mulberries help supports immunity and aids recovery.  Serves 2.
Ingredients
2 glasses coconut water
Handful of each fresh or frozen blueberries and raspberries
1 dessert spoon of each dried goji and mulberries
2 teaspoons combination tincture of yarrow, thyme, elderberry and ginger
4 teaspoons flaxseed oil
Method
1 Soak the goji berries and mulberries in a little of the coconut water for at least 15 minutes.
2Place all the ingredients into a blender and blend until a smooth consistency.
3Pour into glasses and drink chilled.
Recipe copyright © Neal's Yard Remedies 2013

Top News Stories
Keep In Touch
Please subscribe me to your newsletter mailing list. I have read the
privacy statement