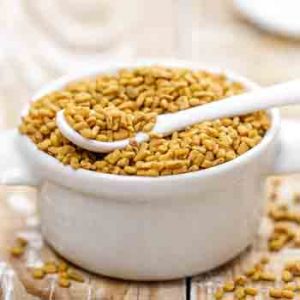 Fenugreek supplement cools hot flashes
19 September, 2016
By Staff Writer
Natural Health News
Natural Health News — The herbal remedy fenugreek could help reduce hot flashes in postmenopausal women, and improve their quality of life, according to new evidence.
Data published in Phytotherapy Research indicated that hot flashes decreased by 48% in women taking a standardised extract of fenugreek (Trigonella foenum-graecum). Other benefits of the herb were improved, including vaginal dryness, irritability, anxiety, night sweats, mood swings, insomnia, and headaches, wrote the researchers.
According to the researchers: "Supplementation of 1000 mg of FHE [fenugreek extract] for 90 days was found to offer hormonal balance by significantly enhancing the estradiol levels, an estrogen that was shown to play a key role in menopausal discomforts. A significant enhancement in serum calcium and Hb [iron] levels was also observed among the subjects who consumed FHE.
"Moreover," they add, "FHE supplementation for 90 days was found to be safe with no adverse effects as shown by the haematological and serum biochemical parameters."
What you need to know
» Fenugreek is a traditional plant remedy that is rich in phytoestrogens.
» A small study from India has shown that taking 1000mg of standardised fenugreek extract for just 90 days helped to reduce the occurrence of hot flashes by 48%.
» By the end of the study, 32% of women reported being free of hot flashes.
A broad action
The small  randomized, double-blinded, placebo-controlled study recruited 88 women and randomly assigned them to receive either 1,000 mg per day of FenuSMART or a placebo (food grade microcrystalline cellulose) for 90 days.
FenuSMART is manufactured by Akay Flavours & Aromatics Pvt Ltd – and the Indian company also funded the study.
Results showed that, compared to placebo, the fenugreek extract was associated with a Hot flashes showed 48% reduction in hot flashes, a 57% reduction in night sweats, a 68% reduction in mood swings, a 75% reduction in insomnia, and a 54% reduction in headaches.
Hot flashes were reduced by an average one to two times per day from the beginning of the study when women reported a frequency of three to five times a day. In addition, about 32% of the women in the fenugreek group reported no hot flashes by the end of the trial.
While the placebo group displayed increased in levels of total cholesterol, LDL cholesterol, and triglycerides, no such increases were observed in the fenugreek group.
Normalising estrogen levels
Commenting on the potential mechanism, the researchers noted that the fenugreek extract was found to increase estradiol levels by 120%.
This, say the researchers, could explain fenugreek's benefits:
"Although the mechanism of estradiol enhancement has not been investigated in the present study, the observed increase in estradiol and the improvement in the postmenopausal discomforts point towards the establishment of a healthy hormonal balance upon [fenugreek extract] supplementation. It has been demonstrated that the decrease in estrogen levels to below 60 pg/mL was the main reason for menopausal discomforts. Estradiol also stimulates vaginal lubrication and blood flow, affecting a woman's capacity for sexual arousal and orgasm."
About fenugreek
Fenugreek is rich in a type of phytoestrogen known as furostanol saponins. It is traditionally used to aid the body in times of intense changes, such as during menopause or andropause (male menopause) or in particularly stressful or fatiguing periods in life.
Studies have shown that fenugreek can help with dry eyes and it is also known to help improve blood sugar levels and regulate the production of cholesterol.
You can easily include fenugreek seeds in your diet. They are very versatile and can be eaten as seeds (for instance sprinkled on salads or savoury dishes), brewed into a tea or made into a flour and cooked as bread. In fact, there is evidence that bread made with added fenugreek flour may be a therapeutic food in cases of diabetes.