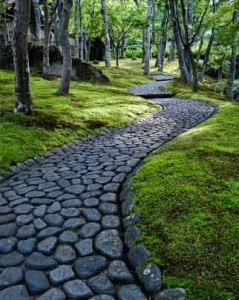 Change your life: Slow down & enjoy the journey
27 January, 2014
By Annabel Sutton
Natural Health News
As we ease our way into the New Year, there's one theme that seems to crop up again and again. People are feeling that their lives are spiralling out of control – the pace of life is just too fast and too relentless – and they're desperately wanting to find a way to slow down.
This brings to mind a radio programme I heard once which included an interview with a man who still travelled the roads in his horse-drawn caravan. In fact, the interview was conducted on the caravan itself, accompanied by the evocative sound of the horse's hooves clip-clopping on the road.
The man travelled the same route day after day and he was describing how he just couldn't understand the modern way, as he watched people hurtling past him in their cars, rushing from A to B as fast as they could.
"Slow down and enjoy life. It's not only the scenery you miss by going too fast – you miss the sense of where you're going and why" — Eddie Canter
In his words: "They just don't get the chance to go slow and enjoy what's around them. The countryside around here isn't special, but there's so much beauty to see in it when you take the time to look. I always say that it's not the getting there that's important. What's important is to enjoy the journey."
That's all very well for him, I hear you cry. What if you've got to earn a living or run a business; you've got bills to pay and children to ferry to swimming or football?
I admit that few of us have the luxury of being able to take things at such a slow pace as the man in his gypsy caravan. But there's no doubt that taking time out to slow down and recharge your batteries – physically, mentally and spiritually – is absolutely vital. Not only will you feel revived, but you'll find that your productivity will increase dramatically as well.
So my challenge to you this week is to try to find a way – somewhere, somehow – in your busy schedule to just SLOW DOWN and enjoy the journey.
Annabel Sutton is a Professional Certified Coach and Author.  She has lived in Los Angeles and Indonesia; survived earthquakes and riots, lived with head-hunters and enjoyed a portfolio career.  She now enjoys a somewhat quieter life in Somerset!  Her latest book, 52 Ways to Transform Your Life (Weekly Wisdom for Busy People), contains 52 inspiring, quick-to-read life tips and is available from http://amzn.to/2nSdMb2 . Find more information at  www.annabelsutton.com.