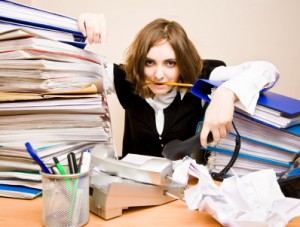 Change your life: What are you avoiding?
20 October, 2014
By Annabel Sutton
Natural Health News
Is your life excessively busy?
Do you feel as if you wake up in the morning and step straight onto the hamster wheel, be it at home or at work? Are you always rushing around and constantly trying to catch up? Is your life unnecessarily complicated?
Making ourselves BUSY can be the most wonderfully clever strategy for avoiding something that really needs attention in our lives.
If this sounds as if it might be true for you, then ask yourself: "Is there something important that I'm effectively avoiding ?"
Give yourself time to think about this – it may not be an easy admission to make.
"Maintaining a complicated life is a great way to avoid changing it." –  Elaine St James
This issue cropped up for me last year, and I have been con­sciously carving out time for myself to concentrate on the questions that surfaced as a result. These were not questions that could be easily answered – no wonder I had managed to avoid them so successfully for so long by making myself so 'busy'! ! !
Annabel Sutton is a Professional Certified Coach and Author.  She has lived in Los Angeles and Indonesia; survived earthquakes and riots, lived with head-hunters and enjoyed a portfolio career.  She now enjoys a somewhat quieter life in Somerset!  Her latest book, 52 Ways to Transform Your Life (Weekly Wisdom for Busy People), contains 52 inspiring, quick-to-read life tips and is available from http://amzn.to/2nSdMb2 . Find more information at  www.annabelsutton.com.

Top News Stories
Keep In Touch
Please subscribe me to your newsletter mailing list. I have read the
privacy statement