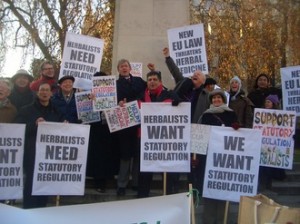 Herbal practice under threat
10 October, 2013
By Michael McIntyre
Natural Health News
For the last twenty years the herbal profession has been negotiating with the UK Government for a more secure legislative basis for herbal practice.
This currently rests on one brief piece of legislation originally rushed into law in1968 in the midst of the thalidomide scandal. This statute, now transferred to the Human Medicines Regulations 2012, allows for herbalists to prescribe and dispense from their own practices but does not set out any qualifications for herbalists so that in reality anyone can be a herbalist without any check on their abilities or qualifications.
In 2000 the prestigious House of Lords' Select Committee on Science and Technology called for the statutory regulation (SR) of herbal practitioners.
Since then two Department of Health Working Groups have called for the same thing and two public consultations have demonstrated huge public support for this initiative. In 2011, the Health Secretary, Andrew Lansley, publicly backed statutory regulation which he described as a 'significant milestone'.
Protecting the public
The SR of herbalists will ensure that the public are protected from poorly trained or bogus practitioners and from substandard herbal remedies.SR will identify professionals able to assure the quality of herbal treatment for the public.
Without SR of herbalists patient choice and safety are at risk. As a result of recent changes to European Medicines law, herbalists must be authorised health professionals (by being statutorily regulated) to continue supplying a range of herbal medicines that have been in use for decades.
Now, because of the delay in granting SR, many patients are now without the herbs that they have come to rely on. This is driving some people to purchase herbal medicines from unsafe internet herbal sites without advice from a qualified practitioner.
Statutory regulation will bring undoubted benefits including enabling the public to consult properly trained practitioners rather than back-street traders.
Without SR well-regulated degree level courses are under threat as the future of herbal medicine is uncertain.
In addition, the loss of a wide range of herbal medicines means many practitioners are struggling to maintain their livelihoods or have been forced to stop practising. In addition, many herbal suppliers are being driven out of business or are making staff redundant.
Sign the petition
Why the delay? There is no adequate explanation.
A promise is a promise! The Government should make good its promise and grant herbalists statutory regulation now!
Please can you help by signing this important e-petition urging Dr Dan Poulter, Parliamentary Under Secretary of State for Health to save the practice of herbal medicine in the UK? You can find it here.
 Michael McIntyre  is a complementary healthcare practitioner of acupuncture and herbal medicine in West Oxfordshire. He is also chairman of the European Herbal and Traditional Medicine Practitioners Association.