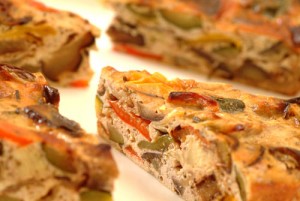 Red pepper and fennel frittata
9 July, 2012
By Vegetarian Society
Natural Health News
This is a fantastic recipe for summer days (the sunny ones and the rainy ones!).
It comes from our friends at the Vegetarian Society and can be served hot, or made ahead of time and served cold, and is wheat, dairy and gluten free.
Ingredients
200g (7oz) new potatoes, cubed
1-2 tbl olive oil
1 large fennel bulb, finely sliced
1 medium onion, finely sliced
2 cloves garlic, finely chopped
2 roasted red peppers (from a jar) cut into pieces
6 green olives, sliced
5 free-range eggs
2 tbl parsley, finely chopped
¼ tsp smoked paprika
salt and black pepper to taste
Method
1 Preheat oven to Gas Mark 5/190°C/ 375°F. Line an 18cm ceramic flan dish with baking parchment.
2 Parboil potatoes for 10 minutes, then drain and dry thoroughly.
3 Heat 1 tbl of oil in a large frying pan and sauté the fennel and onion for 10-15 minutes until golden.
4 Add the garlic and potatoes and cook for a further 5 minutes. Remove from heat and mix in the pepper and olives.
5 In a large bowl lightly beat the eggs with the parsley and paprika, season if desired. Mix in the fennel and potato mixture and turn into the flan dish.
6 Bake for 25-30 minutes until set.
Allow to cool for a few minutes then lift out using the baking parchment, cut into wedges and serve hot or cold. Serves 4.
The Vegetarian Society Approved trademark is the original and only one to trust. The only legally licensed vegetarian trademark, you can ensure that where you see its logo, all products have passed through its strict criteria and can be guaranteed 100% vegetarian. To find out more visit www.vegsocapproved.com.
Recipe copyright © The Vegetarian Society 2005