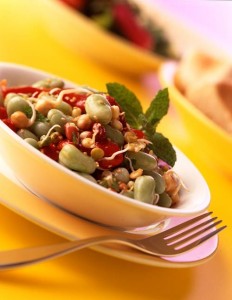 Broad bean and flamed pepper salad
2 August, 2012
By Vegetarian Society
Natural Health News
Why settle for the same old lettuce, tomato and cucumber combination?
Salads can be made from a huge diversity of ingredients and can also make a satisfying main meal. Broad beans are in season now and they are full of protein, fibre, vitamins A and C, potassium and iron. Here's a suggestion from our friends at the Vegetarian Society on how to enjoy them at their freshest.
Ingredients
1 red pepper
340g shelled broad beans
115g mixed bean sprouts
For the Dressing
2 tbsp wine vinegar
4 tbsp cold-pressed sunflower oil
1-2 tsp sesame oil
Handful of fresh mint
Salt and black pepper to taste
2 tbsp toasted sesame seeds
Method
1 Halve and deseed the pepper and barbecue skin side down until it starts to blacken. Put in a strong plastic bag until cool enough to handle. Remove the skin and seeds and reserve any juices to use in the dressing.
2 Make the dressing by whisking the vinegar and oil together. Season with salt and freshly ground black pepper and stir in the chopped mint.
3 Cook the broad beans in boiling water and drain. If the bean skins are tough, pop out the dark green tender centres and discard the skins.
4 Slice the grilled and skinned pepper and mix together with the broad beans and beansprouts. Pour the dressing over the vegetables while they are still warm. Scatter with toasted sesame seeds before serving.
The Vegetarian Society Approved trademark is the original and only one to trust. The only legally licensed vegetarian trademark, you can ensure that where you see its logo, all products have passed through its strict criteria and can be guaranteed 100% vegetarian. To find out more visit http://www.vegsocapproved.com/
Recipe copyright © The Vegetarian Society 2006

Top News Stories
Keep In Touch
Please subscribe me to your newsletter mailing list. I have read the
privacy statement