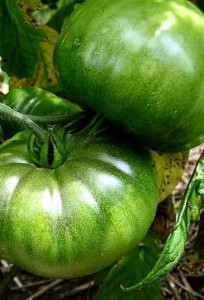 Green tomato chutney
21 September, 2012
By Vegetarian Society
Natural Health News
It's hard to believe we're getting to the end of the summer season.
If you're not quite ready to let the summer go here's a great recipe from our friends at the Vegetarian Society, to help make the taste of summer last a little bit longer.
Tomato chutney is an ideal recipe for anyone growing their own tomatoes who needs to use up their green ones at the end of the season.
Ingredients
1.8kg green tomatoes, roughly chopped
450g (1lb)cooking apples
450g (1 lb) onions, peeled and chopped
450g (1 lb) soft brown sugar
600ml  (1 pint) cider vinegar
3 red peppers, deseeded and diced
250g (9 oz) sultanas
2-3 garlic cloves, finely chopped
1 tbl salt
1 tbl pickling spice
½ tbl dill seed
Method
1  Put the tomatoes, apples, onions, red peppers, sultanas, garlic and salt in a large pan. Tie the pickling spices and dill seeds in muslin and add to the pan.
2  Dissolve the sugar in the vinegar and add to the pan. Simmer for 2½-3 hours until the mixture is thick and the vegetables reduced to a pulp. Stir frequently.
3  Remove the spices and spoon the chutney into prepared jars. 4. Seal with vinegar-proof airtight covers. Makes about 2.7kg (6 lb)
The Vegetarian Society Approved trademark is the original and only one to trust. The only legally licensed vegetarian trademark, you can ensure that where you see its logo, all products have passed through its strict criteria and can be guaranteed 100% vegetarian. To find out more visit http://www.vegsocapproved.com/
Recipe copyright © The Vegetarian Society 1992

Top News Stories
Keep In Touch
Please subscribe me to your newsletter mailing list. I have read the
privacy statement