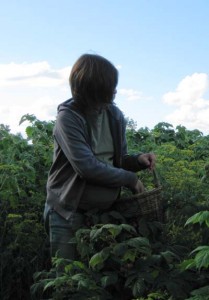 FARM TO FORK: September 2012
18 September, 2012
By By By Ashley Wheeler, Kate Norman & Daphne Lambert, Trill Farm
Natural Health News
It barely feels like we've had a summer, and now it's September and Ashley and Kate are harvesting the last of the summer crops and sowing winter salad vegetables. In the kitchen Daphne is cooking up stuffed cabbage leaves with a carrot ginger sauce.
Somehow our crops have managed to plod on through yet another dreary month to produce fair yields all things considered.
We have been harvesting great sweetcorn, albeit from very stunted plants, and the courgettes have continued to produce steadily, as have the beans and tomatoes. We harvested all of our onions and shallots which went through a hard time from the very beginning.
We sowed the seed in March and it was too wet to plant them all out when they were ready so they had to wait about five weeks, by which time we noticed leek moth had attacked so we removed all of their foliage. So all in all they were probably knocked back by about two months.
We kept them in the ground for a little longer than usual and although we had a fair few rotting as their feet stood in sodden soil all summer the survivors did OK. The shallots have been fairly big, whilst the Italian white onion 'Musona' have been very small.
Pigs in the garden
After having decided to put much of the bottom end of the garden down to green manure next year we thought it would be good to get some more pigs in the garden as any compacted ground will not be cultivated for vegetables.
So three Oxford Sandy and Black weaners are now foraging about amongst some old kohl rabi and neglected radish. Much like last year we plan to slaughter these in the winter so that we can do curing without the threat of fly infestations.
Looking ahead to winter crops
September sees the sowing of all of our overwintering salad crops as well as spring onions (White Lisbon Winter Hardy), spring cabbage (Pixie and Wintergreen), Coriander and Chervil. All of our winter salad will be planted in the polytunnels from about the middle of October, replacing the summer crops. We grow about 20 different varieties of leaves for winter salads, which are mainly oriental brassica leaves such as mizuna, namenia and mibuna, but also chard, winter lettuce and other non-brassica leaves are grown.
We will also be harvesting all of our squash at the end of September to finish the curing on the benches of our propagating tunnel. Ideally squash can be cured in a polytunnel for 10 or so days to allow their skins to harden and improve their storing capabilities.
Regular ventilation is also essential with squash storing, but if they are stored in a frost free place some varieties can be kept until April or even longer.
After the rush
The rush of August has come to an end as the school holidays have finished and the restaurants have quietened down somewhat. This comes as quite a relief each year after working at a hectic pace for a month to try and get all of the harvesting completed for orders along with getting the rest of the duties done.
So, although September is still a busy month the pace of work has slowed and the cold, dewy mornings signal the coming of autumn.
Seasonal delights from the kitchen

Carrots and cabbage are in abundance so try this colourful Autumn dish of stuffed cabbage leaves with carrot- ginger sauce. Serves 6.
Ingredients
Stuffed cabbage leaves
12 Savoy cabbage leaves
110 g (4 oz) sprouted wheat
175 g (6 oz) mushrooms, sliced
2 red onions, finely chopped
2 cloves garlic, diced
1 teaspoon chopped thyme
1 teaspoon chopped parsley
5 finely shredded sun dried tomatoes
30 g (1 oz) butter
30 ml (1 fl oz) olive oil
extra oil and a little stock
Method
1 Cook the onions, mushrooms and garlic in the butter and olive oil until soft.  Add the thyme, parsley, sun dried tomatoes and sprouted wheat.  Set aside.
2 Trim the stalks off the cabbage leaves with a sharp knife or vegetable peeler to make them as thin a the leaves and take a slice off the base to give a flat edge.
3 Bring a pot of water to boil and drop in leaves.  Blanch for 1 minute, remove the leaves and place into cold water.
4 Lay a cabbage leaf on table, put a tablespoon of filling at the base, fold in sides and roll up.
5 Put the parcel in an oiled dish, sprinkle over some more oil and stock, cover and bake for 25 minutes.
While the cabbage parcels are baking make the carrot and ginger sauce
Ingredients
1 onion, chopped
splash of olive oil
pinch salt, pinch sugar
2 carrots, chopped
1 teaspoon ground coriander
1 tablespoon grated ginger
splash lime juice
1.2 litres (2 pints) vegetable stock
salt and black pepper
Method
1 Cook onion with olive oil, salt and sugar until soft and just caramelising.
2 Add the remaining ingredients, bring to boil and simmer gently fro 20 minutes, blend and season.
To serve
Divide the carrot-ginger sauce between 6 plates and place 2 stuffed cabbage  leaves on top.
Trill Farm Garden is a three-acre plot on the farm managed organically by Ashley Wheeler and Kate Norman.  The garden supplies Trill Farm – which is owned by Neal's Yard Remedies founder Romy Fraser – as well as local restaurants and Ash & Kate's market stall in Lyme Regis. Daphne Lambert runs the farm's kitchen turning seasonal produce into delicious meals.