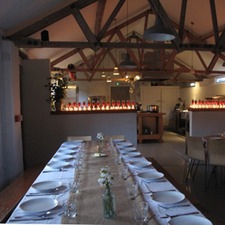 FARM TO FORK: March 2012
19 March, 2013
By Ashley Wheeler, Kate Norman & Daphne Lambert, Trill Farm
Natural Health News
It feels like it has been quite some time since I've had a long list of things to be done, but suddenly March is upon us and we are thrown into a state of frenzy that any grower would be all too familiar with.
It is a very sudden change from the quiet of winter to the excitement of spring and with it comes the joy of seed sowing.
Each year I regain a sense of enthusiasm for growing vegetables when the propagating tunnel fills with trays of seedlings. Then I reach a state of slight panic when I realise the tunnel is full of plants that need planting out, which means lots of work is ahead of us.
This feeling is usually exacerbated by looking out from the polytunnel and seeing the garden looking rather drab with the remnants of the previous years crops, and seeing how much work is required to get it ready for planting. At this stage in the year I always begin to think about the implications of ploughing and cultivating.
Heavy soil
We grow on heavy soil that is not quick to drain and is liked by grasses and persistent weeds such as buttercup. These weeds are not particularly easy to get rid of  early in the year, without using a plough (or perhaps using no-dig methods). I had good intentions of not ploughing this year but to try and use our tine cultivator instead to break up the soil and uproot some of the weeds.
After a couple of weeks of dry weather the soil was dry enough to try the cultivator, but some of the more persistent weeds and also the clover (that was sown as a green manure) looked as though they would not be uprooted or incorporated and soon start regrowing as rain settled their roots back.
I think if we were on a lighter soil I would try growing without ploughing, but it is difficult to imagine not ploughing on this soil, unless we were to practice no-dig.
However, no dig relies heavily on imported compost rather than using green manures (which need to be dug in), and is less of a closed system. A resilient system is one which relies on no or very few inputs from outside the farm.
Ploughing the field
So, I will be on the lookout for a small single furrow plough which can be pulled by our small tractor and not only cause less compaction than the larger tractor but also mean that we can plough shallower and so have a less destructive impact on the structure of the soil.
The first broad beans were sown on the 7th March, and this always feels like a turning point as it is the first vegetable of the year to be planted out into the field for us.
The propagating tunnel is almost totally full up and when the soil begins to dry out again (after more rain since the ploughing) we will get onto sowing peas direct outside and planting modules will begin early next month. This includes over 3000 lettuce, lots of chard, spring onions, beetroot, onions, shallots, spinach, parsley amongst others.
In the kitchen
Gorse is in flower most the year, however now is the best time for picking. There are some glorious  gorse bushes at Trill, the dazzling , bright yellow flowers make a lovely wine with a hint of coconut.
Take gloves with you to harvest, the gorse bush has vicious spines!
Gorse Wine
4 pints (2.2 litres) gorse flowers
large knob of ginger finely sliced
zest of 2 lemons
juice of 2 lemons
1½ lb (680 g) sugar
1 teaspoon wine yeast
 Method
1 Bring 5 pints of water to the boil then allow to cool.
2 Place the flowers in a bowl and pour the cooled water over the flowers, cover with a cloth and leave for a day, stirring occasionally.
3 Pour into a large pan, add the ginger and lemon zest and bring to the boil, barely simmer for ½ hour, strain and stir in the sugar and lemon juice.
4 Allow to cool then cream the yeast with some of the liquid and add to the bowl.
5 Cover with a cloth and ferment for 2 days.
6 Pour into a demijohn fix with an airlock and leave until all fermenting has stopped. Siphon off and bottle. Keep for at least 3 months before drinking.
Feeling in need of rejuvenation?
Trill Farm is offering an inspirational week to bring about a sense of well-being.
NATURAL LIVING, NATURALLY RADIANT will help you discover  the art of living within the resources of the natural world in a beautiful farm setting in Devon.
Romy Fraser, founder of Neal's Yard Remedies will be joined by her friends, Christopher Hedley, a renowned medicinal herbalist and Karen Gilbert, an artisan perfumer to spend four days exploring the woodlands, meadows and hedgerows collecting ingredients to create remedies, creams and perfumes. You will learn about herbs and their medicinal properties, how to make lotions and blend fragrances.
Foraged foods will be turned into nourishing dishes in the kitchen with Daphne Lambert of Green Cuisine. The delicious meals will be made from vibrant living food to help you feel totally revitalised.
Sandra Hill, author and creator of Monkey Press, will lead morning exercise sessions and help you to develop your personal health routine.
There is a spring and an autumn course. For more information see here.
Trill Farm Garden is a three-acre plot on the farm managed organically by Ashley Wheeler and Kate Norman.  The garden supplies Trill Farm – which is owned by Neal's Yard Remedies founder Romy Fraser – as well as local restaurants and Ash & Kate's market stall in Lyme Regis. Daphne Lambert runs the farm's kitchen turning seasonal produce into delicious meals.