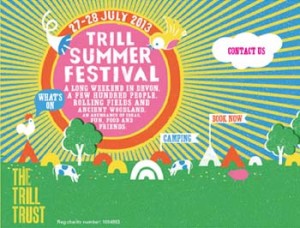 FARM TO FORK: July 2013
16 July, 2013
By Ashley Wheeler, Kate Norman & Daphne Lambert, Trill Farm
Natural Health News
We're taking a bit of a break this month from our usual blog…
All of us at Trill are super busy with the last minute arrangements for the Trill Summer Festival 27th & 28th July.
Ash & Kate are harvesting like mad, Daphne is creating delicious menus from the garden's abundance and our brilliant volunteers are weeding & watering the herb garden and preparing the site.
During the two days there will be a host of activities and events including herbal salve making, foraging, bread making, goat milking, pizza making in our new clay oven, yoga, raft building, art classes, wildlife workshops, garden tours, felting, sculpture, music & dancing.
Each evening there is an organic treat for the senses: Trill Lamb sausages & fava bean cakes, a stunning rainbow feast, and shepherds pie or roast vegetable lasagne.
Come for a day visit or camp on one of our two campsites. Trill Farm is situated close to the Jurassic coast next to some of England's finest beaches and most loved villages and towns. Picnics, barbeques on the beach and dips in the sea are a way of life here and Trill makes an ideal base to enjoy them all.
We're not going to have time to give you recipes this month either, but check in with us next month when we'll be posting the most popular ones from the festival in our next edition!
Trill Farm Garden is a three-acre plot on the farm managed organically by Ashley Wheeler and Kate Norman.  The garden supplies Trill Farm – which is owned by Neal's Yard Remedies founder Romy Fraser – as well as local restaurants and Ash & Kate's market stall in Lyme Regis. Daphne Lambert runs the farm's kitchen turning seasonal produce into delicious meals.