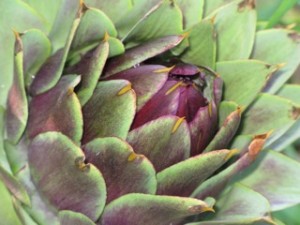 FARM TO FORK: July 2012
5 July, 2012
By Ashley Wheeler, Kate Norman & Daphne Lambert, Trill Farm
Natural Health News
As the summer deluge continues the thoughts on Trill Farm turn to resilience in the face of unpredictable weather, while in the kitchen two seasonal favourites – artichokes and raspberries – are on the menu.
Having met up with many other vegetable growers recently it is almost a relief to know that we are all in the same boat and suffering (some more so than others) due to the dire conditions that have continued throughout June.
Stories of huge losses to certain crops such as squash mainly due to slug damage and other damp related pests and diseases are common this year. It is a sad state of affairs for many growers and only serves as another reason to grow a variety of crops to lower the risk of losing income.
This links in nicely to the theme of the discussions that will be taking place during the Trill Summer Festival – "Diversity for Resilience".
The importance of biodiversity
Building up a system that relies on just one crop, such as monoculture does, opens up the likelihood of quicker spread of pests and diseases and takes away the biodiversity of a mixed system. A farming or growing system that uses mixed cropping helps to support insects which increases predators as well as leading to increased birdlife.
The soil is also looked after and a healthy soil leads to increased biological activity and a more stable, resilient place to grow vegetables. This therefore leads to stronger, healthier plants, which do not rely on chemical nutrition, but grow as plants do in nature; creating complex relationships with soil microbial life.
It is therefore very important to continue to grow a wide variety of crops as is encouraged in organic farming with the necessity to practice crop rotations.
So, the cool wet weather has continued throughout June and doesn't look to stop soon. Some of our crops are much later than expected but overall most fare well. We are starting to harvest cucumbers and French beans from the polytunnel, and the first few tomatoes are being eaten as we walk through the tunnel in the mornings. We have had wonderful broad beans this year and these will continue for a couple of weeks.
Green manures
We grow on slow draining clay soil and the bottom end of the garden is particularly wet at the moment.
We have been thinking about growing more green manures (cover crops grown primarily to add nutrients and organic matter to the soil) next year to ensure our imported fertility is minimal.
The idea would be to sow the bottom end of the garden with various green manures which would then be cut and collected and then either used as a mulch around certain plants (probably those that do not suffer too much slug damage such as garlic) or composted to provide fertility to the growing areas of the garden.
This not only adds fertility but also organic matter, which helps to improve drainage, and increases the biological activity of the soil, having great impacts on crop health.
We are lucky enough to be able to use some of the manure produced on the farm, but also buy in composted green waste to add as mulch to certain parts of the garden. This is not only costly, but also relies on transporting large quantities of compost, using fossil fuels.
Trying to produce most of our organic matter and fertility on the farm is a much more sustainable idea and also helps to increase the diversity of life on our small patch of ground.
As we have no guarantees on the weather for this month, we don't really know what crops will make it – so our main aim as always is to reduce our impact on the land, growing in a sustainable way that ensures our soil is of a good enough health to continue to produce resilient plants.
From Daphne's Kitchen
Two of my all-time favourites are ready to harvest in the garden.
First, artichoke. The plant is magnificent and whilst the artichoke may be a little complicated to prepare and eat, the first taste tells you it was worth the effort. The following recipe is simple perfection.
Artichokes with Lemon Mayonnaise
Ingredients
6 artichokes
1 large egg plus 1 yolk
1/4 teaspoon salt
300 ml (10 oz) olive oil
1 teaspoon white wine vinegar
Freshly ground black pepper
Juice & zest of 1 lemon
To make the lemon mayonnaise
1 Combine the eggs and salt in a bowl and whisk well.
2 Continue whisking as you drizzle the oil into the bowl in a slow steady stream.
3 When the mixture begins to thicken add the white wine vinegar and then continue to drizzle in the oil whilst continuing to whisk.
4 Finally add the lemon zest, juice and black pepper.
For the artichokes
1 Remove all but 1cm (½ inch) of each stalk.
2 Cut the top ¼ off each leaf with scissors. This removes the spike at the tip of the leaf, which is really quite sharp!
3 Cook in boiling water for 15-30 minutes, until tender. Drain well and place on individual plates.
To eat the artichokes pull off a leaf at a time and dip in lemon mayonnaise. Use your teeth to pull the flesh off the base of the leaf, throw away the rest of the leaf.  Continue until you're left with the heart and the flowery thistle. Cut off the thistle and discard, then finally enjoy the heart dipped in the remaining mayonnaise. Serves 6.
Raspberry and Whisky Cream
Now for the raspberries. It's hard to perfect a bowl of fresh raspberries but when there is a glut this recipe makes a great Summer pudding:
Ingredients
600 g (1¼ lb) crowdie (a creamy soft Scottish cheese.  If you are unable to source
crowdie use a 50/50 mixture of yoghurt and mascarpone)
30 ml (1 oz) whisky
60 g (2½ oz) icing sugar
200 g (7 oz) raspberries (reserve 6 for decoration)
2 tablespoons toasted oats
Method
1 Place the crowdie, icing sugar and whisky in a bowl and blend together.
2 Spoon this mixture into serving glasses alternating with raspberries, finish with a layer of crowdie.
3 Chill overnight.
Remove from the fridge, sprinkle over the toasted oats, pop a raspberry on top and serve. Serves 6.
Trill Farm's Summer Festival  is an unashamedly small and non-commercial events, its heart firmly rooted in the native, natural pleasures to be found in its immediate surroundings. Each day of the Festival offers a host of activities ranging from inspiring speakers and creative workshops to outdoor adventures and marvellous music. It takes place August 2-5 in the beautiful Devon countryside, so come along!
Trill Farm Garden is a three-acre plot on the farm managed organically by Ashley Wheeler and Kate Norman.  The garden supplies Trill Farm – which is owned by Neal's Yard Remedies founder Romy Fraser – as well as local restaurants and Ash & Kate's market stall in Lyme Regis. Daphne Lambert runs the farm's kitchen turning seasonal produce into delicious meals.