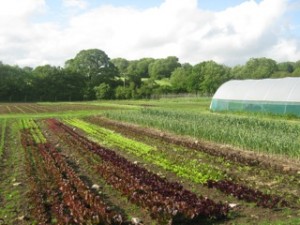 FROM FARM TO FORK: June 2012
14 June, 2012
By Ashley Wheeler, Kate Norman & Daphne Lambert, Trill Farm
Natural Health News
At Trill Farm  a combination of wet weather and persistent pests have provided some challenges this month – challenges that  many are unaware of when they buy their produce.
May was a very successful month for us and the weather changed just at the right time as we had about 15,000 plants that were waiting to be planted out.
With the ground finally dry enough to cultivate we were able to get round to plant the onions which was 3 or 4 weeks later than we had hoped. However, when we started to plant I noticed signs of leek moth damage and at closer inspection found most of the onions to have larvae in their leaves.
Persistent pests
We decided to cut off all of the foliage as it appeared that most of the larvae had not yet got down into the bulb, and the leaves have grown back and all looks OK.
In the UK leek moth is a relatively new pest which affects all of the allium family and has two generations a year. The moth lays its eggs on the leaves of the plant in April/May and August/September. The eggs hatch and the larvae burrow through the leaves, eating for about a month before pupating.
The second generation usually causes more damage and wiped out our leek crop last year (so we decided not to grow leeks this year). The adult moths then overwinter in plant debris, re-emerging in spring to start the cycle again. It is a very difficult pest to control in organic horticulture, but I have no doubt that in time natural predators will follow (as they often do in a balanced system) and the pest levels will be reduced and reach an equilibrium.
A break in the weather helps planting
We planted all of our courgettes, squash and sweetcorn (thanks mainly to our wwoofer volunteers) as well as borlotti beans, kohl rabi, dill, basil, more spring onions, beetroot and chard. The hot weather from the middle of May meant that the tomatoes, beans and cucumbers got off to a good start and are looking very healthy. Sideshooting of tomatoes has become a weekly routine and hoeing during the dry weather has been important to keep the weeds in check.
During June we will continue to plant more French beans, runners and drying cannelini and our second batch of lettuce as well as various other successional plantings. We also plan to undersow our squash with clover by the middle of the month to act as a green manure without having to take the land out of production.
The bulk of the brassicas will be sown this month in module trays and planted where the lettuce currently are in July.
As the majority of plants are in the ground the most important thing will be to keep the weeds down and begin to harvest more interesting things this month, with wet garlic continuing, spring onions, carrots, French beans, broad beans, cucumbers, courgettes, baby beetroot, chard and possibly some new potatoes.
From Daphne's kitchen
A dazzling splash of red amongst the green caught my eye in the garden at the week-end – the first strawberries from Ash & Kate's plants are ready to pick.
Even though poly tunnels and varieties have extended the season (along with imports!), strawberries, for me, will always symbolise the British summer harvested and enjoyed between early June to late August.
Here's some recipes to celebrate this glorious summer fruit:
Strawberry almond milk
Serves 2 (or 1 generously)
Ingredients
240 ml (8 fl oz) almond milk
 ½ tsp rose water
10 strawberries
1 teaspoon honey
Method
Place all ingredients in a blender, whiz together, pour into 1 or 2 glasses and serve.
Strawberries with rose petal jelly
Serves 1
You'll need a handful of  strawberries,  hulls removed, and 1 dessert-spoon of rose petal jelly
Rose petal jelly ingredients
450 g (1 lb) scented rose petals
225g (8 oz) sugar
225 g (8 oz) honey
Juice of 2 lemons
Method
Snip the bitter white heels off the rose petals.  Simmer the petals in a little water until tender, stir in sugar, honey and lemon juice.  Cook until the syrup is thick, pour into jars and seal.
When you are ready to eat, place the strawberries in a bowl and drizzle the jelly over the top.
Strawberry porridge
Serves 1
Ingredients
Handful of sprouted buckwheat
1 tbl hemp seeds
1 tbl pumpkin seeds
1 tbl sunflower seeds
4oz (110g) almond milk
1 dessertspoon agave syrup
A dozen strawberries
1 tbl ground flax
 Method
1 Soak the buckwheat and seeds with the agave syrup in the almond milk overnight
2 Add the strawberries & top with ground flax
This is a really healthy and fresh alternative to  commercial cereals – enjoy!
Trill Farm's Summer Festival is an unashamedly small and non-commercial events, its heart firmly rooted in the native, natural pleasures to be found in its immediate surroundings. Each day of the Festival offers a host of activities ranging from inspiring speakers and creative workshops to outdoor adventures and marvellous music. It takes place August 2-5 in the beautiful Devon countryside, so come along!
Trill Farm Garden is a three-acre plot on the farm managed organically by Ashley Wheeler and Kate Norman.  The garden supplies Trill Farm – which is owned by Neal's Yard Remedies founder Romy Fraser – as well as local restaurants and Ash & Kate's market stall in Lyme Regis. Daphne Lambert works in the farm's kitchen turning seasonal produce into delicious meals.