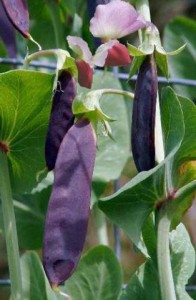 FARM TO FORK: August 2012
1 August, 2012
By Ashley Wheeler, Kate Norman & Daphne Lambert, Trill Farm
Natural Health News
The sun is out – for now.  Ashley and Kate are busy surveying the damage caused by the unseasonal rain, and with the Trill Farm Summer Festival about to begin life is very hectic. In the kitchen Daphne is indulging an a little legume love.
At last the sun has arrived and the crops that survived the continual hammering from the rain and slugs and the low night time temperatures are now growing steadily.
The poor weather has meant that our tomatoes are almost a month later than last year, all of the potatoes got blight and about half of the tubers will be thrown away and about one third of the onions have rotted.
However, if the sunshine continues the courgettes, which have already picked up and the beans that are definitely enjoying the sun, as well as the squash and sweetcorn will continue to grow and just produce a little later than usual, and perhaps slightly lower yields.
As the soil dried out towards the end of July we managed to plant everything that was in desperate need of planting such as the brassicas, more beetroot, fennel, chard and chicories. Much of this was a little later than we would have usually done it, but hopefully the plants will recover from being pot-bound and mature into strong specimens.
(English) salad days
The third and final sowing of lettuce has been made for the outdoor salad. After which the salad growing will resume in the polytunnel overwinter again. Lettuce seed becomes dormant if it is subjected to high temperatures (over about 25°C), so we sow all of our lettuce during the summer in our shed. Once germinated it is then put into the propagating tunnel to grow until being planted out.
The autumn salad sees the return of some of the oriental and brassica salad leaves as well as chicories and endive (of which we are trying about 15 different varieties this year).
We do not grow any of the brassica salad leaves such as rocket, mizuna, namenia and the like during the summer months as they are not very well suited to growing at this time of year. They tend to suffer flea beetle damage (lots of small holes in the leaves, especially during dry spells) and also flower and run to seed quickly so require continual re-sowing to keep up production.
To everything, a season
We prefer to grow more lettuce throughout the summer which are well suited to growing at this time of year as well as pea shoots, herbs such as basil and other interesting leaves like salad burnet, perilla, shungiku and various edible flowers.
Each different salad leaf tends to have an optimum time of year for growing and if grown during this time it will ensure healthier crops and less stress for the grower, rather than trying to grow certain varieties all year round when they are not really suited to all year round production.
Seed companies often miss this and recommend sowing certain varieties at ill-advised times – the brassica salad leaves are a good example of this. Gardeners often therefore struggle to produce good quality salad during the summer, sowing leaves such as rocket which will grow, but produce far fewer leaves and of lesser quality than many other salad leaves suited to summer production.
It looks as though the weather is going to change again – as more rain is forecast for early August. However, as long as there are sunny intervals and warmer temperatures than early July the summer vegetables should plod on and gradually ripen.
Fingers crossed for sunny weather during the Trill Summer Festival during which we will be providing Daphne with plenty of vegetables and salad to prepare. We will also be giving tours of the garden giving you a more in-depth idea of what we do.
Into the kitchen
Trill garden is full of lush growth and the vibrant colours of fruits and vegetables.
If you peep in the polytunnels they are full of red tomatoes with that unforgettable aroma, outside the runner beans are reaching for the sky with cascades of orange flowers and there is a bountiful harvest of peas just waiting to be picked, including a purpled pod variety named Ezeta Krombek Blauwschokker.
Here's some recipes that make the most of this seasonal bounty.
Pea Soup
Ingredients
6 spring onions, roots and outer leaf removed
50 g (2 oz) butter
1.35 kg (3 lb) fresh peas shelled
1.2 litres (2 pints) vegetable stock
3 mint leaves
Salt & pepper
Extra mint leaves
Method
1 Soften the spring onions in the butter.
2 Tip in the peas, stock and mint and bring to the boil, simmer gently for about 10 minutes.
3 Purée until smooth in a blender, or press through a sieve, return to the pan, check the seasoning and heat through.
Pour into bowls with a few torn mint leaves. Serves 4 -6.
Summer bean & pea salad
Ingredients
200 g (8 oz) yellow wax beans tops removed
200 g (8 oz) runner beans cut into long shreds
200 g (8 oz) broad beans (shelled weight)
175 g (60 oz) mange tout topped and tailed and finely shredded
200 g (8 oz) peas (shelled weight)
2 shallots
2 cloves garlic
salt & pepper
8 tablespoons olive oil
juice of 2 lemons
large handful of mint
large handful of walnut pieces
1 tablespoon tamari
Method
1 Finely chop the shallots and garlic mix with 2 tablespoons of olive oil and season well with salt and pepper.
2 Bring a medium size pot of water to the boil drop in the yellow wax beans and the runner beans cook for 1 minute, scoop out and toss in the shallot and garlic oil.
3 Using the same water boil the broad beans for 2-3 minutes, drain and cool. Squeeze the bean out of its skin and discard the skins. Add the broad beans and the shreds of mange tout to the yellow and runner beans.
4 Toss the walnuts in the tamari and roast in the oven 180°C until crisp about 2-3 minutes.
5 Pound the peas in pestle and mortar with most of the mint add the remaining olive oil, lemon juice and season well
Divide the bean mixture between 6 plates, spoon over the dressing, and scatter over the nuts and tear the remaining mint over the top.  Serves 6.
Trill Farm's Summer Festival  is an unashamedly small and non-commercial events, its heart firmly rooted in the native, natural pleasures to be found in its immediate surroundings. Each day of the Festival offers a host of activities ranging from inspiring speakers and creative workshops to outdoor adventures and marvellous music. It takes place August 2-5 in the beautiful Devon countryside, so come along!
Trill Farm Garden is a three-acre plot on the farm managed organically by Ashley Wheeler and Kate Norman.  The garden supplies Trill Farm – which is owned by Neal's Yard Remedies founder Romy Fraser – as well as local restaurants and Ash & Kate's market stall in Lyme Regis. Nutritionist and chef Daphne Lambert runs the farm's kitchen turning seasonal produce into delicious meals.