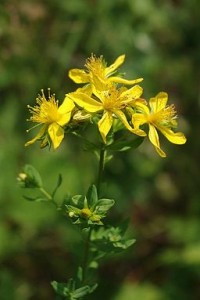 St John's wort and skullcap tea
6 August, 2012
By Staff Writer
Natural Health News
There is always a place for a cup of happiness in our life. Plants have a way with our emotions; our spirit is their playground and they engender in us a freedom from self-imposed boundaries.
In this blend the antidepressant effect of St John's wort with its bitter-sweet and astringing quality, is aided by the presence of bitter sweet Skullcap and sweet and neutral Albizzia.
Skullcap and St John's wort are often used together to reinforce in each other. They have a trophorestorative action (that is they are able to restore both structure and function of specific organs and tissues)  involving the whole of the nervous system. Both herbs promote relaxation, reduce anxiety, release tension and muscle spasm.
If you re feeling down, or 'stuck' in some way, this unusual tea blend can help you see the clear sky beyond the dark cloud.

Ingredients
St John's wort
Skullcap
Albizzia flower
Benefits
Refreshing, calming, empowering
Method
To make a single cup use 1 tsp of each herb steeped in boiling water for 5 minutes. A convenient way to make a single cup is by putting the herbs in a metal tea diffuser and letting this steep in your cup. Otherwise, if making a pot of tea use 1 tsp of each herb for every cup you want to make.
About the herbs
Bringing St John's wort (Hypericum perforatum) into the arena where it contrasts the activity of a drug like Prozac, has reduced this great healer to a mere substitute for a drug which only provides a symptomatic treatment. This obscures the depth and the lasting restorative, spirit nurturing qualities that this herb, also commonly known as 'Touch and Heal', and 'Singing wort' would have.
The thymoleptic effect of Hypericum – that it, it's ability to alter mood – results in an improved sense of well-being. It has long been used in alleviating melancholy, depression, exhaustion and in convalescence and long term debility. Whenever nervous tension and depression occur together, Hypericum helps to counter these symptoms. The effect is so well proven that St. John's wort products on the UK can claim on the label to provode benefit in mild to moderate depressive states.
In ancient Greece Hypericum was used to resolve confusion that can sometimes overtake our day-to-day minds. Whether you surround yourself with Hypericum plants, or take it as a tea, you immerse yourself in a wisdom that opens the door to a sense of self that is neither restricted nor defined by thought and can bring liberation from constraints of emotion to the spaciousness of divine inspiration.
Skullcap (Scutellaria lateriflora) is another herb that can relax and liven up the spirit. It is well known tonic to the nervous system from the North American native tradition.It is best used in cases of insomnia to promote sleep and in cases of irritability of the nervous system with restlessness, and nervous excitability; insomnia caused by pain; general irritability.
The Albizzia tree (Albizia julibrissen) also known as the Persian Silk Tree and  a mimosa tree,  is native to Iran, China, Korea and Japan. Both the pale-grey bark and soft pink, fluffy, thread-like, fragrant flowers have medicinal properties.
In traditional Chinese medicine Albizzia is known as "huan hua" (flowers) and "he huan pi" (bark).  The plant's leaves naturally close during the night and also when it rains, the leaflets bowing downward as if the tree were sleeping. It's Japanese name, nemunoki, translates as sleeping tree.
Another name for Albizzia is the  'collective happiness tree'. When a tree earns this name you have to pay attention! Anything that lifts the spirit of many can only be a good thing.
Traditional Chinese medicine ascribes to this hewb asweet taste, neutral property, and beneficial activity on both the Heart and Liver meridians. It is sedative, tranquillising, carminative (relieves gas) and blood invigorating.
Both the flowers and the bark are used in treatment of pent up emotions, fullness in the chest, epigastric (upper central abdomen) pain, insomnia and palpitations due to anxiety and anger.