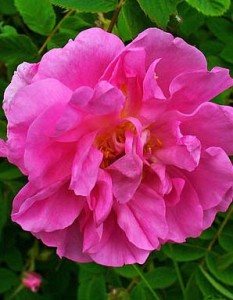 Therapeutic rose petal vinegar
18 June, 2012
By Staff Writer
Natural Health News
Apart from being used as a food ingredient, this vinegar has many other healthful applications.
This simple recipe for an organic rose petal macerate makes use of beautiful summer roses to give you a lift any time of the year and has many uses both internally and externally. 
Ingredients
100 g (3 oz) rose petals (dark, perfumed rose such as and preferably organic)
500 ml (16 oz) organic cider vinegar
Macerate rose petals in vinegar for at least 5 days before straining and bottling.
The vinegar will keep at room temperature for up to 6 months.
Therapeutically it is used as restorative for the nervous system. It is uplifting and can calm the nerves, lift depression, and dispel mental and physical fatigue.
For internal use
When diluted it makes refreshing drink and its benefits include:
Arresting bleeding, discharge, phlegm
Relief for period pains and PMS
Clear toxins and heat from the body – good for adrenaline surges (rushes), hot flushes and inflammation
For external use
This vinegar can be uses as a skin rinse, toner, mouth wash, douche, bath vinegar and is good for:
Toning and energising for dry and normal skin
Preventing wrinkles
Clearing redness
Reducing red thread veins
Clearing skin blemishes and inflammation
It can also be used as:
Mouth wash, for mouth ulcers, bleeding gums
Gargle for sore throat
Douche for vaginal discharge
Bath vinegar – to enhance sensuality

Top News Stories
Keep In Touch
Please subscribe me to your newsletter mailing list. I have read the
privacy statement