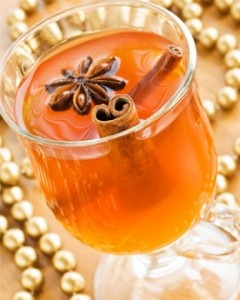 Winter soothers for colds, coughs and flu
28 January, 2015
By Tipper Lewis
Natural Health News
When you have a cold or flu it's the easiest thing in the world to reach for a box of pills.
But if you want something that is both soothing and provides a boost for your immune system why not try something different. The recipes below are quick to make and can help provide natural relief to cold and flu symptoms using herbs and everyday  ingredient you may have at home already.
Warm spiced apple juice
This  simple spiced apple juice full of herbs and spices with antiviral and warming properties, lovely when you feel chilly with a cold. You'll need:
1 cup/mug apple juice
1 teaspoon olive leaf
Teaspoon freshly grated ginger
Half cinnamon quill
2 star anise
Zest and juice of 1 lemon
Infuse for ten minutes over a gentle heat. Allow to cool slightly and then stir in:
2 teaspoons baobab
1 teaspoon bee pollen (optional)
Add honey to sweeten if desired.
Cough tincture
This is a great blend of herbs for when you have a cough and sore throat. It combines herbs with antispasmodic actions to soothe a cough, immune boosting to fight the infection and expectorant to expel mucus
In a small cup or mug combine the following tinctures:
Elecampane 30ml  – lung tonic to strengthen lungs and antibacterial
Myrrh 10ml – stimulates immunity
Thyme 30ml – antispasmodic to sooth cough, antimicrobial, expectorant to expel mucus
Elderflower 35ml – mucus cutter for the upper respiratory tract
Marshmallow leaf 30ml – softens and expels mucus, mucilaginous soothes a sore throat
Liquorice 10ml – throat soother
Ginger 5ml – warming and immune stimulating
This makes approx 150 ml of the remedy; take 2-5 ml three times daily.

Top News Stories
Keep In Touch
Please subscribe me to your newsletter mailing list. I have read the
privacy statement