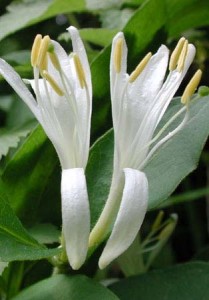 Traditional herbals show promise as flu remedies
22 January, 2013
By Staff Writer
Natural Health News
Natural Health News — Two recent studies have shown that traditional herbals used in China and Japan have the potential to help fight the flu.
The US, in particular, is in the grip of a  heavy flu season. The flu vaccine has not helped (and indeed historical evidence shows this is generally the case), and doctors are mostly helpless when it comes to treatment and prevention. So these novel herbals offer some useful alternatives.
In the first laboratory study, published in the journal Integrative Biology, researchers at China's Northwest A&F University exposed human cells and the influenza virus to two different herbs: Fructus forsythiae (also called Forsythia or Lian Qiao) and Lonicera japonica (also called Suikazura, Jinyinhua and Japanese Honeysuckle).
Both traditional Chinese herbs are rich in beneficial phytochemical substances and are known in Chinese medicine to have an anti-viral effect.
The researchers found that these two herbs stimulated the immune response of the human cells and also significantly inhibited the mechanism by which of the virus replicates.
Another recent Chinese study from Shandong University's School of Pharmaceutical Sciences found that Polygonum nepalense (Nepalese smartweed) contains important antioxidant polyphenols – kaempferol, glucopyranoside, quercetin, pyrogallol, gallic acid and epipinoresinol – all of which can help reduce the  inflammation associated with infections like influenza.
Polygonum nepalense has been shown to effectively treat colds and flu as well as haemorrhoids, diarrhoea and rheumatism.
TCM doesn't have a monopoly on helpful herbals. A recent review suggests that Ayurvedic herbs such as Ocimum sanctum (Tulsi, or Holy Basil) and Tinospora cordifolia (Guduchi) have immune modulating properties that could – either on their own or when used in conjunction with conventional medicine – help fight influenza, even extreme forms such as the swine flu H1N1.
What these and other studies highlight is that there are many effective, but largely underused herbal alternatives to colds and flu. To find out more about some of these check out the links to our related articles in the panel on the left.