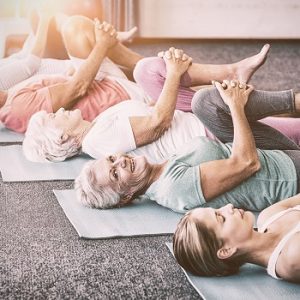 Yoga improves arthritis symptoms and mood, study finds
24 September, 2015
By Staff Writer
Natural Health News
Natural Health News — Yoga can be a safe – and effective – way to improve wellbeing for people with arthritis.
Just 8 weeks of yoga classes improved the physical and mental health of people with two common forms of arthritis, knee osteoarthritis and rheumatoid arthritis.
The study, published in the Journal of Rheumatology, is believed to be the largest randomized trial so far to examine the effect of yoga on physical and psychological health and quality of life among people with arthritis.
What you need to know
» US researchers undertook a study of adults with two common types of arthritis; knee osteoarthritis or rheumatoid arthritis.
» Compared to those put on a waiting list those who were assigned a twice weekly yoga session, and practice at home, for just 8 weeks saw significant improvement in mobility and pain as well as mood.
» The researchers recommend yoga – modified to meet the individual's personal capacity for movement – as a safe and effective treatment.
"There's a real surge of interest in yoga as a complementary therapy, with 1 in 10 people in the US now practicing yoga to improve their health and fitness," says researcher Susan J. Bartlett, Ph.D., an adjunct associate professor of medicine at Johns Hopkins and associate professor at McGill University
"Yoga may be especially well suited to people with arthritis because it combines physical activity with potent stress management and relaxation techniques, and focuses on respecting limitations that can change from day to day."
No cure but good management can help
Arthritis, the leading cause of disability, affects 1 in 5 adults, most of whom are under 65 years of age. Without proper management, it can affect not only mobility, but also overall health and well-being, participation in valued activities, and quality of life.
There is no cure for arthritis, but one important way to manage arthritis is to remain active. Yet up to 90% of people with arthritis are less active than is necessary to stay healthy, perhaps due to arthritis symptoms such as pain and stiffness, but also because they are unsure of how best to remain active.
Reducing pain, improving mood
The study recruited 75 people with either knee osteoarthritis or rheumatoid arthritis. Participants were screened by their doctors prior to joining the study, and continued to take their regular arthritis medication during the study and were randomly assigned to either a wait list or eight weeks of twice-weekly yoga classes, plus a weekly practice session at home.
Some yoga poses were modified to take into account reduced mobility and the need to protect the vulnerable joints of the participants.
Participants' physical and mental wellbeing was assessed before and after the yoga session by researchers who did not know which group the participants had been assigned to.
Compared with the control group, those doing yoga reported a 20% improvement in pain, energy levels, mood and physical function, including their ability to complete physical tasks at work and home.
Walking speed also improved to a smaller extent, though there was little difference between the groups in tests of balance and upper body strength. Improvements in those who completed yoga were still apparent nine months later.
Do what you can
The researchers recommend that people with arthritis who are considering yoga should talk with their doctors about which specific joints are of concern, as well as find a teacher who asks the right questions about limitations and works closely with you as an individual. Start with gentle yoga classes and most importantly, practice acceptance of where you are and what your body can do on any given day.