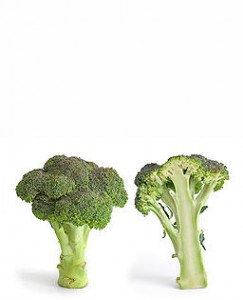 Broccoli could be key in the fight against osteoarthritis
28 August, 2013
By Staff Writer
Natural Health News
Natural Health News — Eating broccoli could help prevent or slow the most common form of arthritis.
Researchers from the University of East Anglia found that sulforaphane – a compound found mainly in broccoli but also in sprouts and cabbage – slows down the destruction of cartilage in joints associated with painful and often debilitating osteoarthritis.
Results from the laboratory study show that sulforaphane slows down the destruction of cartilage in joints associated with painful and often debilitating osteoarthritis. The study, which also examined human cartilage cells and cow cartilage tissue, found that mice fed a diet rich in the compound had significantly less cartilage damage and osteoarthritis than those that were not.
Sulforaphane is released when eating cruciferous vegetables such as Brussels sprouts and cabbage, but particularly broccoli. Previous research has suggested that sulforaphane has anti-cancer and anti-inflammatory properties, but this is the first major study into its effects on joint health.
The researchers discovered that sulforaphane blocks the enzymes that cause joint destruction by stopping a key molecule known to cause inflammation. They wanted to find out if the compound got into joints in sufficient amounts to be effective and their findings are published today in the journal Arthritis & Rheumatism.
A widespread problem
More than 8.5 million people in the UK have osteoarthritis, a degenerative disease affecting the hands, feet, spine, hips and knees in particular. According to Arthritis Research UK, the annual cost of the condition to the NHS is £5.2 billion. In 2011, more than 77,000 knee and 66,000 hip replacements were carried out due to osteoarthritis – approximately one every four minutes.
Ageing and obesity are the most common contributors to the condition and due to their effects, the number of people in the UK consulting a GP about knee osteoarthritis alone could rise from 4.7 million in 2010 to 8.3 million by 2035. Currently one in five people over the age of 45 has osteoarthritis in their knee. There is no cure or effective treatment for the disease other than pain relief, which is often inadequate, or joint replacement.
Members of the research team say they are now embarking on a small scale trial in osteoarthritis patients due to have knee replacement surgery, to see if eating broccoli has similar effects on the human joint. If successful, they hope it will lead to funding for a large scale clinical trial to show the effect of broccoli on osteoarthritis, joint function and pain itself.
Prevention better than surgery
Ian Clark, professor of musculoskeletal biology at UEA and the lead researcher, said: "The results from this study are very promising. We have shown that this works in the three laboratory models we have tried, in cartilage cells, tissue and mice. We now want to show this works in humans. It would be very powerful if we could.
"As well as treating those who already have the condition, you need to be able to tell healthy people how to protect their joints into the future. There is currently no way in to the disease pharmaceutically and you cannot give healthy people drugs unnecessarily, so this is where diet could be a safe alternative.
"Although surgery is very successful, it is not really an answer. Once you have osteoarthritis, being able to slow its progress and the progression to surgery is really important. Prevention would be preferable and changes to lifestyle, like diet, may be the only way to do that."