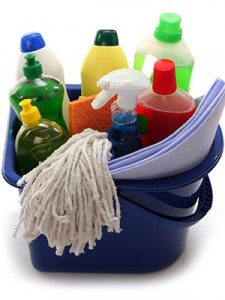 'Cocktail' of everyday chemicals contributes to cancer risk
23 June, 2015
By Staff Writer
Natural Health News
Natural Health News — A cocktail of 50 common chemicals, some found in foods and objects we use daily, could be contributing to the global cancer epidemic, according to new research.
A global task force of 174 scientists from leading research centres across 28 countries came together to study the link between mixtures of commonly encountered chemicals and the development of cancer. The study selected 85 chemicals not considered by regulators to be carcinogenic to humans and found 50 supported key cancer-related mechanisms at exposures found in the environment today.
The chemicals studied included those commonly found in items such as mobile phones, detergents and cooking pans, and pesticides used on fruits and vegetables.
The list of 50 particularly risky chemicals included:
What you need to know
» An unprecedented review by an international panel of scientists has shown that common chemicals can combine to become cancer promoters.
» Current regulation only assesses risk by testing single chemicals in single exposures.
» The study concludes that the way we regulate and assess chemicals needs to change in order to better protect the public.
Acrylamide -produced as part of a natural process when starchy foods are heated to high temperatures
Carbon Black – used to make tyres and rubber products but also toner ink
Copper- found in wiring and pipes
Lead – in a wide variety of products found in and around our homes, including paint, ceramics, pipes and plumbing materials, solders, gasoline, batteries, ammunition, and cosmetics
Malathion – insecticide found in anti-mosquito preparations
Mercury – humans can be exposed by eating eat fish and shellfish contaminated with mercury. Also used to produce fluorescent lights and streetlamps
Phthalates – plasticisers commonly used in toiletries and cosmetics
Sulphur dioxide – a preservative found in wine and dried fruits
Titanium dioxide – used in cosmetics including sun preparations
Triclosan – preservative and antibacterial used in toiletries and household cleaning products
A 'chemical soup'
William Goodson III, lead author of the paper, said: "Since so many chemicals that are unavoidable can produce low-dose effects that are directly related to carcinogenesis, the way we've been testing chemicals (one at a time) is really quite out of date.
"Every day we are exposed to an environmental 'chemical soup', so we need testing that evaluates the effects of our exposure to these chemical mixtures."
Other scientists who also participated in the task force have added their views.
Cancer Biologist Dr Hemad Yasaei from Brunel University London contributed his knowledge regarding genes and molecular changes during cancer development. He said: "This research backs up the idea that chemicals not considered harmful by themselves are combining and accumulating in our bodies to trigger cancer and might lie behind the global cancer epidemic we are witnessing. We urgently need to focus more resources to research the effect of low dose exposure to mixtures of chemicals in the food we eat, air we breathe and water we drink."
One way in which the combinations of chemicals are thought to increase cancer risk is through causing cell mutation and uncontrolled division, although researchers investigated a number of potential causes. Some metals, including nickel and copper, can accumulate to potentially dangerous levels inside the body, Dr Yasaei said.
An unprecedented review
Professor Andrew Ward from the Department of Biology and Biochemistry at the University of Bath, who contributed in the area of cancer epigenetics and the environment, said: "A review on this scale, looking at environmental chemicals from the perspective of all the major hallmarks of cancer, is unprecedented".
Professor Francis Martin from Lancaster University who contributed to an examination of how such typical environmental exposures influence dysfunctional metabolism in cancer endorsed this view.
He said: "Despite a rising incidence of many cancers, far too little research has been invested into examining the pivotal role of environmental causative agents. This worldwide team of researchers refocuses our attention on this under-researched area."
Michael Warhurst, executive director of Chem Trust, a charity that aims to protect humans and wildlife from manmade chemicals, said: "This is worrying research. It's not acceptable that the public are not being protected properly from everyday chemical exposures."
Choose cleaner products
The charity said that people could limit their exposure to chemicals by using natural cleaning brands marked with independent "ecolabels", or even try making their own cleaning products from recipes found online.
It also suggested avoiding soaps and cosmetics with added antibacterial agents such as triclosan and those containing parabens, and switching to organic food to minimise exposure to pesticides.
Cleaning regularly to reduce the build-up of dust was also a good idea, it said, as house dust had been found to have "quite high levels of a range of problematic chemicals".
The organisation Getting to Know Cancer put together the research team, from 28 countries, in response to longstanding concerns about exposure to multiple chemicals. It is now calling for further research into low-dose exposures to mixtures of chemicals, with current research estimating that chemicals could be responsible for up to one in five cancers.
The research will be published today in a special series of the journal Carcinogenesis published today