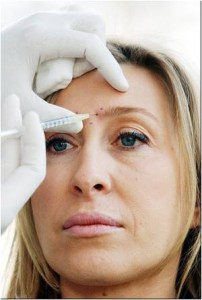 Anti-ageing injections, a new health scandal waiting to happen
5 January, 2012
By Staff Writer
Natural Health News
Natural Health News — Women who use 'dermal fillers' to make themselves look younger are participating in an uncontrolled experiment in human health, experts warn.
The news comes hot on the heels of the PIP breast implant scandal in which tens of thousands of women in the UK were given potentially lethal, sub-standard breasts implants and which could cost the NHS an estimated £150 million for removing the faulty implants.
Now there is fear that injectable fillers, used to plump out wrinkles, may contain similarly dangerous forms of  non-medial grade silicone and other harmful ingredients.
Early rumblings came from Sally Taber, director of Independent Healthcare Advisory Services, the cosmetic surgery industry body.
Speaking to The Times newspaper in London, Traber warned: "Unless we get this sorted out dermal fillers will be the next disaster." She added "The next thing will be that a patient will have a dangerous dermal filler that's come in from China and it will be 'How on earth did we let this happen?' We need to work together to cut out some of the appalling practice."
In the UK the dermal filler market is completely unregulated. No medical training is required to inject them. Some companies even sell fillers online for patients to inject themselves at home and with some shops offering a 'walk-in' service.
In America fillers, like Botox, can be obtained by prescription only. But in Europe they are widely available. Even so, last year it was reported that 'pumping parties', where women are administered with illegal facial injections by unqualified practitioners at house parties, are on the rise in the US.
As many as 160 injectable fillers are certified for sale in the UK, compared to only six licensed in the US.
A 2009 survey of its members by the British Association of Aesthetic Plastic Surgeons (BAAPS), found that a quarter of them had seen patients with complications from permanent facial fillers that were so severe they required surgery to correct them.
A that time, Nigel Mercer, President of the BAAPS and consultant plastic surgeon, warned:
"The public must understand that injecting fillers requires an expert knowledge of facial anatomy and a degree of dexterity that cannot be done by just anyone.  A filler injected into the wrong part of the face can lead to lumps, facial disfigurement, or even cause a stroke."
Noting the disurbing rise in DIY filers, which can ever be purchased on teh internet, he added:
"These so-called 'DIY' treatments are extremely dangerous not just because of who is injecting them and how, but also because of what is being injected.  None of these websites are regulated and there is no proof that you will get the actual products you're expecting."
And this really in the problem. In Europe although injectable fillers generally come with a 'CE' mark. CE marking is a declaration by the manufacturer that the product meets all the appropriate provisions of the relevant legislation implementing certain European Directives. CE marking gives companies easier access into the European market to sell their products without adaptation or rechecking.
However, the CE mark is essentially a bureaucratic formality that acknowledges that a product has been approved for sale. It does not guarantee that a product has been tested for safety, nor is there anything stopping the manufacturers from changing the formulation of a product once it is on the market.
Speaking to the Huffington Post this week Mercer said that the government should ask the question why so many fillers have been licensed in the UK compared to the States and strongly recommend that the government reclassify the cosmetic fillers as medicines.
"The government has been against any form of extra regulations but this isn't an extra regulation, it is simply changing one group of products from one group of regulations in Europe to another group of regulations. You're taking them out of CE marking into proper medicines regulatory authorities, which would include safety testing."
His ominous warning: "It is even easier to make a filler in a garage in Krakow in Poland than it is to make a breast implant."