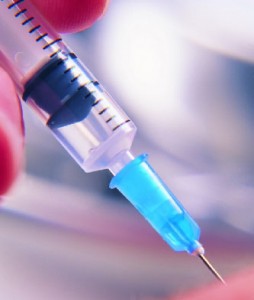 Panel rules MMR vaccine left young girl partially deaf
20 August, 2012
By Staff Writer
Natural Health News
Natural Health News — In case you missed it, a recent ruling found that a 21-year-old Scottish woman, Katie Stephen, suffered from deafness in one ear due to an adverse reaction to the triple MMR (Measles, Mumps and Rubella) vaccine, which she was given at the age of 15 months.
After the jab she developed a fever and irreparable damage to the nerve between her brain and ear, and is now permanently deaf on her left side.
According to a report in the UK's Daily Mail, Stephen alleged the adverse reaction was similar to the brain disease encephalitis.
The decision was made by the Vaccine Damage Payment Unit, which is administered by the Department of Work and Pensions.
Amazingly, the panel had the power to award compensation of a one-off tax-free lump sum of £120,000 in this case, but refused to do so because, in it's view, she was only 20% disabled.
Compensation is only awarded if a vaccine caused 'severe disablement', which means a person has be 60% disabled. Being completely deaf, for example, would constitute a 100% disablement score. Stephen argues that her disability has had a profound affect on her life.
Stephen was originally part of a 1,000 strong class action for compensation, which was focused on the adverse effects of the MMR jab, such as autism. However, in 2003 as a result of the the media circus that followed the original Lancet article linking MMR with autism, the class action was dropped when legal aid was withdrawn on the basis of the 'official' view that no link between the MMR vaccine and autism could be found.
Wakefield's original Lancet articles have long been withdrawn but you can find links to other peer reviewed papers supporting their conclusions here.
Mounting evidence
This is not the first case to rule that MMR jab can cause neurological damage. Earlier in the year, as reported on this site, families in Italy and the US were awarded payouts when courts ruled that the MMR jab did cause autism.
In 2010, a severely disabled boy from Warrington, Robert Fletcher, was awarded the lump-sum compensation of £90,000 by a medical assessment appeal panel, after his mother battled for 13 years to prove his epileptic condition was due to the MMR jab he received at just over one year old.
At the time the panel accepted that MMR had caused Fletcher's brain damage but added: "We would stress that this decision is fact-specific and it should not be seen as a precedent for any other case… In particular, it has no relevance to the issue… as to whether there is a link between the MMR vaccine and autism."
This view misses the point. It is now accepted that some types of brain damage can result from an MMR jab. Autism may well be part of a spectrum of neurological damage linked to the vaccine. This latest ruling – although disappointing for Katie Stephen and her family – may cause around 2,000 families, who still believe their children's autism is due to the vaccine, to have renewed hope.