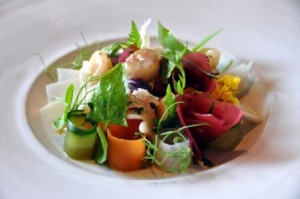 The New Nordic diet is a winner for weight loss
9 September, 2014
By Staff Writer
Natural Health News
Natural Health News — The new Nordic diet – a healthy eating regime similar to the Mediterranean diet – can help weight control and reduce blood pressure, according to a new study.
Reporting their findings at a recent meeting of the European Society of Cardiology, in Barcelona, Spain, Prof Thomas Meinert Larsen and colleagues explain, that the much celebrated Mediterranean diet can be difficult for people in the Northern Hemisphere to follow because the fresh seasonal ingredients are not always available.
Thus they worked with chefs from the acclaimed Copenhagen restaurant Noma (now designated the best restaurant in the world), to devise a test menu that reflected what is known as the New Nordic diet – one based on seasonal and fresh foods.
The diet comprises 15 food groups: fruit and vegetables (especially berries, cabbages, root vegetables and legumes), potatoes, fresh herbs, plants and mushrooms gathered from the wild, nuts, whole grains, meats from livestock and game, fish, shellfish and seaweed.
Typical recipes include baked cod with celery, sweet water pike grilled with summer cabbage and turbot in bread crumbs.
'Our view is that eating foods in accordance with the seasons makes us less dependent on transportation,' said Meinert Larsen, from the University of Copenhagen. 'There's particular emphasis on foraged foods because they taste better, and usually contain greater amounts of vitamins and minerals than conventionally grown plants.'
Three times the weight loss
In the study 181 men and women with central obesity (defined as waist circumferences >94 cm for men and >80cm for women) were randomised for 26 weeks to the new Nordic diet (n=113) or the average Danish diet (n=68), whose macronutrient composition was designed to match diets commonly eaten by adult Danish populations as defined by the latest survey of dietary habits in Denmark.
Those randomised to the Nordic diet received a cookbook with 180 recipes with three menu plans for each season, while those randomised to the Danish diet received a cookbook with 99 recipes but no menu plans – since seasonal variation was not important. 'One innovative aspect of the study was that all ingredients were provided free of charge at a special shop,' Meinert Larsen said.
The food taken away was registered on computer and if it did not conform to the assigned diet, the customer was asked to change their choices.
It is estimated that cost of the Nordic diet was around £4.75 a day, about 25% more than the average diet (although such calculations are inevitably misleading. To be more accurate you would, fora start, need to figure in the cost of treating heart disease and obesity and other common health complaints related to diet.

Results showed that the mean weight change was a loss of 4.7 kg (10 lb) for the Nordic diet group compared to a loss of 1.5 kg (3 lb) for the Danish group. In addition, the Nordic diet produced greater reductions in systolic (5.1 mm Hg) and diastolic blood pressure (3.2 mmHg) than the average Danish diet.
At the population level such reductions are likely to be important, said Meinert Larsen, since even small long-term blood pressure reductions will reduce cardiovascular mortality.
He also emphasised the importance of not getting too hung up on names or regimes. The concept of a healthy, regional, sustainable, seasonal and highly palatable diet, he said, could in principle be applied anywhere in the world, not just Nordic countries.