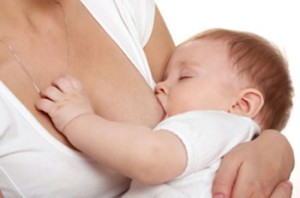 Breastfeeding protects against a toxic environment
1 June, 2015
By Staff Writer
Natural Health News
Natural Health News — Breastfeeding in the first four months of life helps protect babies against the neurological damage caused by airborne pollutants, a new study has found.
A new study by the University of the Basque Country monitored 638 women and their newborn babies and examined the effect of pollution – specifically particulate matter (PM2.5) and nitrogen dioxide (NO2) – on the neurological development of infants up to 15 months.

What you need to know

»Airborne pollutants can have a toxic effect on children's brain development, beginning the the womb.

»Spanish researchers have found that breastfeeding for the first 4 months of life protected infants living in a highly polluted area.
The women and children studied all live in the Goierri-Alto and Medio Urola valleys, in the Basque Country which is home to 11 steel works and a major motorway – areas of intense environmental pollution. However, the study, published in the journal Environment International showed that the harmful effects of these toxins on children disappeared in breastfed babies.
Tiny toxins
PM2.5 particles measure less than 2.5 microns; that makes them four times thinner that a single human hair. Suspended in the air these ultra-small and light particles can float quickly away from the source of emissions and easily get into the lungs, and from there spread to other vulnerable parts of the body. The composition of these neurotoxic particles in any area depends on the emission sources in the area.
In the current study researchers found a high level of neurotoxic particle matter made up of lead, arsenic and manganese from industrial activity and traffic. In comparison, in urban areas where the main source of pollution is traffic, the concentration is lower.
According to lead researcher Dr Aitana Lertxundi of the Basque Country University's Department of Preventive Medicine and Public Health: "In the fetal phase the central nervous system is being formed and lacks sufficient detoxification mechanisms to eliminate the toxins that build up."
In this long-term study which began in 2006 when the mothers were pregnant, neither the PM2.5 particle matter nor the NO2 exerted a harmful effect on babies breastfed on mother's milk for at least four months. This strongly suggests that breastfeeding plays a protective role in the presence of these two atmospheric pollutants.