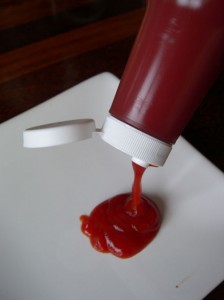 Ketchup with everything? Go ahead as long as it's organic!
6 December, 2011
By Staff Writer
Natural Health News
Natural Health News — Does eating organic really make a difference? A new study involving a popular everyday condiment – ketchup – says yes.
The study, published in the Journal of Agricultural and Food Chemistry, reveals that ketchup made from organically grown tomatoes contains higher levels of polyphenols – plant antioxidants with proven human health benefits – than ketchup made from conventional tomatoes.
The Spanish scientists from the University of Barcelona noted that the agricultural system in which tomatoes are grown affects the levels of bioactive compounds and other metabolites found in the finished product.
The good news for kids (and grown-ups!) who like ketchup with everything is that ketchup made from organically-grown tomatoes contains higher levels of the polyphenolic compounds flavonols, flavanones and phenolic acids, than does ketchup from conventionally grown tomatoes.
The researchers believe that the techniques used in the cultivation of organic crops – in which the plant does not receive any artificial nutrients – could activate natural defence mechanisms, increasing levels of polyphenols in the fruit.
In contrast, ketchup made from conventional tomatoes shows higher levels of nitrogen compounds. Nitrogen is, of course, essential for the synthesis of proteins and other biomolecules.
But as we have previously reported, the excessive nitrogen used in conventional farming may have impacts on our health because it can be turned into cancer-causing nitrites in the body.
Choosing organic vegetables is one way to reduce unnecessary exposure to nitrates in produce.
For information on this see this study by the US based Organic Center and another publication Health Benefits of Organic Food: Effects of the Environment published by Centre for Agriculture and Biosciences International (CABI).