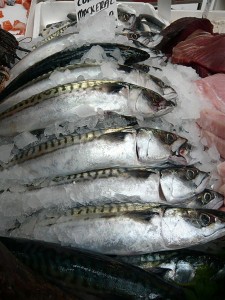 Sustainable fish is the healthiest fish – but it's still not that simple!
14 August, 2012
By Staff Writer
Natural Health News
Natural Health News — These days, ordering and buying seafood comes with a number of different things to consider.
This isn't just choosing between the multitude of different species of fish and sea life that could end up on our plates.
We must also ask ourselves: Is this fish is healthy? Is it safe? Has it been harvested responsibly? Is this particular species sustainable or not?
These are not easy questions and asking them comes with consequences such as last year when Britain's love affair with cod took somewhat of a hit, after the European Commission recommended all fishing for this deeply over-exploited fish be halted in the Irish Sea and off western Scotland.
Fish is a high quality and healthy food. While there are a number of different labels and methods and ranking systems that can help us make choices that tick all the boxes a group of researchers have found a simple rule of thumb that applies.
Sustainable is healthy
According to Leah Gerber, a senior sustainability scientist at Arizona State University, the rule is "if the fish is sustainable, then it is likely to be healthy to eat too."
Gerber and colleagues ran an analysis of existing literature on fish to determine which choices are consistently healthier and which are overfished or high in mercury.
The study, which is published in the journal Frontiers in Ecology and the Environment, brought together several sustainability rankings, as well as species specific health metrics, such as mercury content and omega 3 fatty acid.
The findings, according to Gerber, suggest "In general, larger longer-lived fish are more likely to have exposure to toxins due to the length of their lives and their place on the food chain."
She further explains "you might be best served to stay away from them – like Bluefin tuna or swordfish. Besides, these stocks have been depleted by fishing." Safer choices might be Alaskan Pollock, Atlantic Mackerel or Blue King Crab
In contrast choosing more sustainable options could help us increase our omega-3 intake whilst cutting out the risk of mercury poisoning.
But there's more to healthy eating
As a background to the study Gerber explained how seeing a health-conscious friend order Bluefin tuna, without knowing it was a "taboo," made her wonder whether seafood consumers are able to make a conscious and informed decision based on both ecological and health risks.
Following Gerber and colleagues' rule of thumb tis certainly one way to improve your choices when consuming seafood.
However, a recent article published in the UK's Guardian newspaper suggests that in the UK, at least consumers have already taken the sustainability message to heart. In the last year there has been a surge in consuming these healthier, more sustainable fish.
Pollock, one of the species of sustainable fish recommended by Gerber and colleagues, has seen a 15% rise in sales over the last year. However, there have been more staggering rises such as tilapia, which has gone up by 117%, and pouting, a relative of cod, which has seen sales leap by 273%.
Some of this behaviour may be a reaction to the price of favourites like cod  – which has also risen considerably in the same period.
Think local, too
However, the rush to substitute one fish for another brings up an important point about the commercialisation of seafood. In fact in 2009 researchers writing in the International Journal of Epidemiology noted that dietary recommendations to consume more fish are incompatible with the sustainability of ocean ecosystems and meeting the desires of people in the developed world for 'more' fish could well take a vital source of protein away from populations in developing countries.
Another study published at the same time echoed this view and noted that while governments and industry tell consumers to eat more fish because it is healthy, it pays to ask where this fish comes from. Increasingly, noted researchers in the Canadian Medical Association Journal they are coming from the waters around Africa and other places where food security is a problem. It noted also that while fish is a healthy food, it is not the only healthy food. Balance and diversity in any diet are key.
So while Gerber's rule of thumb is probably a good one, it may require the caveat of sourcing locally – and seasonally, because , yes, seafood has seasons too –  to make our choices both healthy and truly ocean friendly.