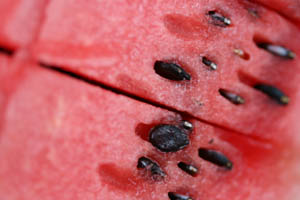 Watermelon juice has the right stuff to relieve post-exercise soreness
20 August, 2013
By Staff Writer
Natural Health News
Natural Health News — Feeling sore after a workout? Try a nice glass of watermelon juice.
Watermelon juice's reputation among athletes is getting scientific support after the publication of a new study, which found that juice from one of summer's favourite fruits can relieve post-exercise muscle soreness.
The report in the Journal of Agricultural and Food Chemistry attributes watermelon's effects to the amino acid L-citrulline.
Lead researcher Encarna Aguayo and colleagues cite past research on watermelon juice's antioxidant properties and its potential to increase muscle protein and enhance athletic performance.
But scientists had yet to explore the effectiveness of watermelon juice drinks enriched in L-citrulline. Aguayo's team set out to fill that gap in knowledge.
In a small study the Spanish researchers tested natural unpasteurised watermelon juice, watermelon juice enriched in L-citrulline and a pasteurised watermelon drink containing no L-citrulline on volunteers an hour before exercise.
Both the natural unpasteirsed juice and the enriched juice relieved muscle soreness in the volunteers and both helped to reduce the recovery heart rate and muscle soreness after 24 h.
L-citrulline in the natural unpasteurised juice, however, seemed to be more bioavailable – in a form the body could better use, the study found. This means there is something in the natural watermelon juice that is essential for absorption of this important amino acid.
The enriched juice is not something that is available on the market, but from the results of this test, it seems you can get much the same benefit from the juice or fruit of a ripe watermelon. Why not try one after your next work-out?
Interested in the subject of healing foods? Our book,  Neal's Yard Remedies Healing Foods – Eat Your Way to a Healthier Life, written by Susan Curtis, Pat Thomas and Dragana Vilinac (Dorling Kindersley, £16.99) features 175 healing foods and 130 delicious recipes have been specially designed to heal from within and are easy to incorporate into your everyday routine.