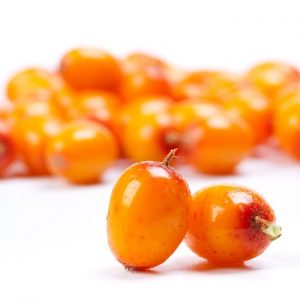 Study finds heart protective effects of sea buckthorn
5 February, 2018
By Staff Writer
Natural Health News
Natural Health News — Supplementing with nutrient- and antioxidant-rich sea buckthorn oil could help protect against heart disease.
Dr. Beata Olas, a researcher at Poland's University of Lodz pulled together relevant existing scientific literature on sea buckthorn (Hippophae rhamnoides) oil's health benefits. She notes in the Journal of Ethnopharmacology​ that: "Its beneficial properties against cardiovascular disorders have been attributed to its high unsaturated fatty acid content and range of phytosterols, especially beta-sitosterol."​
For her review, Dr Olas looked at in vitro​and in vivo​studies on humans and animals, combining multiple varieties of the plant, as well as multiple oil preparations (either from the seeds, pulp, or fruit).
In total she looked at 4 human studies and 11 animal studies and found evidence of a liver protective effect as well as an immune stimulating effect of sea buckthorn oil in animals.
Five of the studies reviewed provided evidence of sea buckthorn oil's cardioprotective potential in humans, which she says is likely due to the presence of unsaturated fatty acids, phytosterols and vitamins A and E in the oil which "may have synergistic actions on cardiovascular health when given in combination".​
Olas has called for larger human trials in this area.
What you need to know
» A review of studies into the healthful properties of sea buckthorn oil has found evidence of heart protective effects.
» The benefits – which have also been seen in other studies – likely come from a synergistic combination of nutrients and co-factors including unsaturated fatty acids, phytosterols and vitamins A, C and E naturally present in the oil, though more research is needed.
Earlier findings
This is not the first study to show heart benefits from sea buckthorn oil.
A 2011 review suggested that daily consumption of 28g of berry or 5g of oil daily was potentially beneficial in the prevention of cardiovascular diseases including atherosclerosis, hypertension and heart attack.
In 2017 Chinese researchers also performed a meta-analysis of 11 trials, involving 900 people, which showed that supplementation could significantly reduce heart disease risk by improving blood cholesterol and blood lipid profiles.
Other evidence published in the European Journal of Clinical Nutrition in 2010 found that sea buckthorn oil could help maintain normal blood sugar levels after meals, in those with type-2 diabetes.
About sea buckthorn
Sea buckthorn is a bushy shrub found throughout Europe and Asia. Its orange fruit and the oil from its pulp and seeds have a wide range of traditional uses including treating skin, respiratory and digestive problems.
Also called sandthorn, sallowthorn or seaberry, and tyrni in Finnish, it thrives in dry, rocky areas – not always by the sea – where few other plants can grow. Its berries are edible and nutritious, but they have an astringent taste and oily texture, which is not very appealing. Freezing them can reduce the astringency and fruits can be sweetened to make jams, coulis, sauces and marinades. But generally the fruits are not eaten raw but pressed to release the juice and oils in the fruit and seeds.
When pressed, the resulting juice separates into three layers: the top two oily layers are suitable for cosmetic purposes such as skin creams and are rich in antioxidant carotenoids, vitamin E and plant sterols that help tone skin and protect it from day to day damage. Sea buckthorn oil also contains all the omega fats and is particularly rich in omega 7 (palmitoleic acid).
The bottom layer is sediment and juice, which can be used to make a syrup that can be used to flavour drinks. The juice has many  bioactive substances including vitamins (A, C and E), unsaturated fatty acids, and phenolic compounds, especially flavonoids. When buying sea buckthorn drinks look for those with a high percentage of the fruit syrup in them.
When taking supplements aim for around 1-2 g per day.