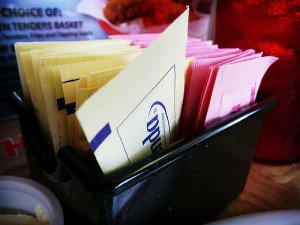 Artifical sweetener link to inflammatory bowel disease
22 November, 2011
By Staff Writer
Natural Health News
Natural Health News — Can using the sweetener sucralose destroy friendly bacteria in the gut, triggering the painful autoimmune condition Inflammatory bowel disease (IBD)? A US scientist believes the answer is yes.
Inflammatory bowel disease is an umbrella term that includes both ulcerative colitis and Crohn's disease and levels of these disease have sky-rocketed in recent years. Global use of the sweetener sucralose has also grown exponentially in the last decade. But it was first marketed in Canada in 1991 as a sweetener in breakfast cereals, soft drinks, deserts, toppings, fillings, chewing gum, breath mints, fruit spreads, salad dressings, sweets,  puddings, bakery products and more.
And 20 years later Canada – a country with a previously low incidence of IBD – now has the highest incidence of IBD in the world.
In a letter to the Canadian Journal of Gastorenterology Dr Xiaofa Qin cites studies showing that sucralose inhibits gut bacteria and suggests that this may be the reason for the rise.
Sucalose, sold commercially as Splenda, was discovered in 1976 by researchers working for British sugar refiners Tate & Lyle. Four years later Tate & Lyle joined forces with Johnson & Johnson to develop the sweetener under the auspices of a new company, McNeil Specialty Products (now called McNeil Nutritionals).
Sucralose has been approved by more than 60 regulatory bodies throughout the world, and is in thousands of products worldwide. However, even as the US Food and Drug Administration (FDA) was approving the sweetener, it noted that several of the studies that the manufacturers used to prove its safety were "inconclusive" or were "insufficient" to draw firm conclusions from.
These included:
A test which examined the clastogenic (ability to break chromosomes apart) activity of sucralose and a test which looked for chromosomal aberrations in human lymphocytes exposed to sucralose,
A series of three animal genotoxicity studies; and
Laboratory studies using lymphoma tissue from mice showed that sucralose was "weakly mutagenic" (in other words, capable of causing cellular mutations).
Clastogenic, genotoxic and mutagenic substances are all potential risk factors in the development of cancer.
At mid to high doses, FDA reviewers found that there was a trend towards "decreasing white blood cell and lymphocyte counts with increasing dose levels of sucralose" – in other words the more that was consumed the more it affected immunity.
This latest theory about sucralose adds to long-term concerns expressed by health campaigners, that it was never tested fully for human safety before being put on the marketplace (see here for a review).