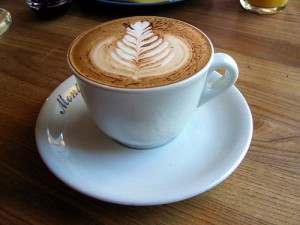 Skin cancer fears? Try a cup of coffee, or three
1 November, 2011
By Staff Writer
Natural Health News
Natural Health News — The caffeine in your coffee could give you a lower risk of developing basal cell carcinoma – a common form of skin cancer – according to a new study.
The study, presented recently at the 10th American Association for Cancer Research International Conference on Frontiers in Cancer Prevention Research, examined the risks of basal cell carcinoma (BCC), squamous cell carcinoma (SCC) and melanoma in connection with coffee consumption.
Data for the study were taken from two large ongoing studies of health in women and men: the Nurses' Health Study (Brigham and Women's Hospital) and the Health Professionals Follow-Up Study (Harvard School of Public Health). In the Nurses' Health Study, 72,921 women were followed from June 1984 to June 2008. In the Health Professionals Follow-Up Study, 39,976 men were followed from June 1986 to June 2008.
Details on the diets of these people over more than 20 years, showed that women who consumed more than three cups of coffee per day had a 20% reduction in risk for BCC, and men who consumed more than three cups per day had a 9% risk reduction, compared with those who consumed less than one cup per month. Coffee did not help prevent SCC.
"Given the nearly 1 million new cases of BCC diagnosed each year in the United States, daily dietary factors with even small protective effects may have great public health impact," said researcher Fengju Song, PhD, a postdoctoral fellow in the department of dermatology at Brigham and Women's Hospital and Harvard Medical School. "Our study indicates that coffee consumption may be an important option to help prevent BCC."
In the UK, there are an estimated 100,000 new cases of non-melanoma skin cancer every year in the UK. Basal cell carcinomas account for around 80% of all cases of skin cancer, and squamous cell carcinomas 10%.
Basal cell carcinoma and squamous cell carcinoma are the most common forms of skin cancer in the world. Unlike the more serious melanoma skin cancer, these 'non-melanoma' skin cancers are usually not fatal and rarely spread to other parts of the body.
Animal studies have shown that both oral and topical caffeine can help protect skin from the kind of UV damage that can lead to BCC and SCC. The researchers called for more study into the link between caffeine and a lower risk some skin cancers. They did not comment, however, on the potential health impacts of drinking high levels of coffee and whether these outweigh any benefits seen in BCC prevention.