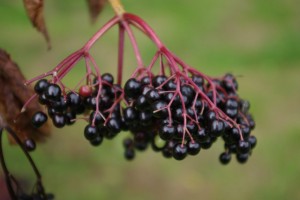 Black elderberry juice has anti-infection effect
1 September, 2011
By Staff Writer
Natural Health News
A liquid extract from black elderberry may inhibit the growth of harmful bacteria by upwards of 70% suggests recent data.
Researchers at Justus-Liebig University in Germany report that a liquid extract of black elderberry (Sambucus nigra L.), inhibited the growth of both influenza A and B viruses as well as the bacteria Branhamella catarrhalis and Streptococcus pyogenes, both of which are associated with upper respiratory tract infections. The laboratory study was  published in the journal, BMC Complementary and Alternative Medicine.
The study examined the effects of solutions containing different concentrations of the black elderberry extract: 5, 10, 15 and 20%. It was found that even a 10% solution could inhibit the bacteria associated with upper respiratory tract infections by as much as 70% and Influenza A and B by 30 and 25% respectively.
Elderberry has a long history of use in treating respiratory illness and boosting immunity, however the researchers claim this is the first time it has been show to have a wide ranging effect against the bacteria that can cause upper respiratory tract infections.
According to the researchers, the activities shown by the elderberry liquid extract suggest that additional and alternative approaches to influenza infections might be provided by natural products.

Top News Stories
Keep In Touch
Please subscribe me to your newsletter mailing list. I have read the
privacy statement