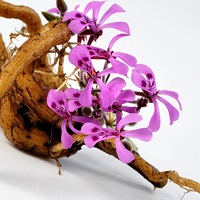 Study shows geranium extract inhibits HIV-1
31 January, 2014
By Staff Writer
Natural Health News
Natural Health News — Extracts from a member of the geranium plant, Pelargonium sidoides, have been shown to inactivate human immunodeficiency virus type 1 (HIV-1) and prevent the virus from invading human cells.
Ina laboratory study, published online in  PLOS ONE, German scientists from the Helmholtz Zentrum München report that these the plant extract could represent a potential new class of anti-HIV-1 agents for the treatment of AIDS.
The scientists performed a detailed investigation of the effects of P. sidoides extract on HIV-1 infection of cultured cells. They demonstrated that the extracts protect blood and immune cells from infection by HIV-1, the most widespread type of HIV.
Results showed that the extract prevented the virus particles from attaching to host cells, thus effectively prevent the virus from invading cells.
Further analysis showed that it was the antioxidant polyphenols in the plant extract that was responsible for the effect.
A valuable addition to HIV treatments
HIV/AIDS is one of the 10 leading causes of death worldwide.
Research group leader Prof. Dr. Ruth Brack-Werner from the Institute of Virology says:
"P. sidoides extracts are a very promising lead for the development of the first scientifically validated phytomedicine against HIV-1.
She adds that the extract attacks HIV-1 with a mode-of-action that is different from all anti-HIV-1 drugs in clinical use." Therefore a P. sidoides-based phytomedicine may be a valuable supplement for established anti-HIV therapies".
Finally she notes that P. sidoides extracts are attractive candidates for increasing anti-HIV-1 therapy options in resource-limited settings, since they are easy to produce and do not require refrigeration.
"The results of our study and the proven safety of P. sidoides extracts encourages their testing in HIV-1 infected individuals as next step."
A proven anti-viral
Pelargonium sidoides is a medicinal plant native to South Africa. Its common names include Umckaloabo and South African Geranium.
Although related, it is a different species from Pelargonium graveolens – another South African native – the leaves of which are used to produce geranium essential oil.
The medicinal properties of the root extract of P. sidoides have been established in several clinical trials. It has been shown to be antibacterial with significant antibacterial properties against antibiotic-resistant Staphylococcus aureus strains. It is also widely sold as a remedy for the common cold and flu and has been shown to be both safe and effective for adults and children.
A standardised Pelargonium sidoides extract, EPs 7630, is an approved drug for the treatment of acute bronchitis in Germany. It has been shown to interfere with replication of variety of respiratory viruses including seasonal influenza A virus strains (H1N1, H3N2), respiratory syncytial virus, human coronavirus, parainfluenza virus and coxsackie virus.
Other studies have shown that most geranium plants have potent antioxidant and anti-viral activity. Indeed, P. graveolens has also been shown to be powerfully antimicrobial against multiple strains of Staphylococcus aureus, including those that are drug-resistant.