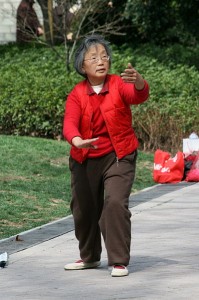 Tai Chi brings balance
to Parkinson's sufferers
21 February, 2012
By Staff Writer
Natural Health News
Natural Health News — People suffering from mild-to-moderate Parkinson's disease experience significant benefits, including better posture, fewer falls, and improved walking ability, when they practice Tai Chi.
The study in the New England Journal of Medicine researchers at the from the Oregon Research Institute (ORI) randomly divided 195 participants, all with Parkinson's, into three groups:
The Tai Chi Group
The Stretching Group
The Resistance Training Group
Each group had two 60-minute session each week, for 24 weeks.
Better balance
The Tai Chi sessions consisted of six movements which were choreographed into an eight-form routine.This specific Tai Chi routine focused on:
ankle sway
controlled-displacement of the center of gravity over the base of support
front-to-back and sideways stepping
natural breathing
weight-shifting
The researchers found that those in the Tai Chi Group could lean in any direction without losing their balance much better than those in the other group. They also demonstrated superior directional body control and walking ability – those in the Tai Chi group, for example, took longer stride lengths. The Tai Chi Group participants had better results in reducing their number of falls.
Tai Chi also proved superior to resistance training with those in the Tai Chi group showing consistently better balance as well as an increase in the lengths of their strides. Both groups experienced similar significant improvements in reducing falls.
Lasting results
The authors reported that the Tai Chi benefits were maintained for at least three months. There were no serious adverse events.
The results are significant because an individual with Parkinson's disease whose movements are impaired, especially when standing balance is undermined, finds it considerably harder to function in everyday life events and chores; their quality of life is severely affected. As the disease progresses, balance becomes more of a problem, and subsequently, so does walking.
Experts say that physical activity, i.e. exercise, helps slow down the deterioration of motor function, and allows the patient to function for longer independently. But research into the benefits of alternative exercises, such as Tai Chi,has been limited.
Simple and low cost
Study leader, Fuzhong Li, PhD, comments:
"These results are clinically significant because they suggest that Tai Chi, a low-to-moderate impact exercise, may be used, as an add-on to current physical therapies, to address some of the key clinical problems in Parkinson's disease, such as postural and gait instability."
He added: "There are a number of practical advantages to using Tai Chi to improve motor dysfunction of Parkinson's disease – it is a low cost activity that does not require equipment, it can be done anywhere, at any time, and the movements can be easily learned. It can also be incorporated into a rehabilitation setting as part of existing treatment. Similarly, because of its simplicity, certain aspects of this Tai Chi program can also be prescribed to patients as a self-care/home activity."