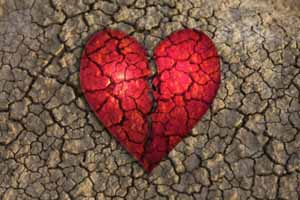 Women can literally die of a broken heart
30 April, 2015
By Staff Writer
Natural Health News
Natural Health News — Traumatic life events such as the death of a loved one or life-threatening illness increased the chances of a heart attack even if you don't have any of the normal risk factors for heart disease.
Psychological stress has long  been known to contribute to the risk of heart disease and heart attack, but in this study researchers looked at what types of stress had significant impact on heart health in middle-aged and older women.
What you need to know
» Suffering a bereavement or being in debt raise older women's risk of heart attack regardless of an y other risk factor.
» Previous research has shown the same association in men.
Speaking at the recent meeting of the American Heart Association lead researcher Michelle A Albert said "Much of the prior research related to negative life events was done in persons who have a history of heart attacks and in men. It is important to assess these relationships in middle-aged and older women as this age group is more susceptible to heart disease as they age and are likely to live longer with disability."
The researchers compared women who had suffered heart attacks to women who hadn't. The women were asked questions about negative life events such as being fired from a job, legal problems, unemployment, marital infidelity, financial strain, death of a loved one, and life-threatening injuries or illness to themselves or a loved one and then followed up for an average of nine years.
Illness and debt take their toll

In addition to traumatic life events increasing risk, researchers also found that a history of financial struggle was independently associated with a two-fold higher risk for heart attack.
Women living in households earning less than $50,000 per year, which is above the federal poverty threshold, appeared to be more vulnerable to heart attack.
"We don't know whether women are more physiologically vulnerable as some prior research suggests that decreases in blood flow to the heart caused by acute mentally-induced stress is more common in women and individuals with less social support," Albert says. "At the biological level, we know that adverse experiences including psychological ones can lead to increased inflammation and cortisol levels. However, the interplay between gender, heart disease and psychological factors is poorly understood."