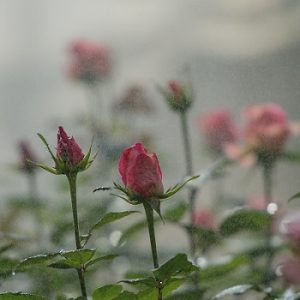 The (toxic) language of flowers
11 May, 2017
Most of us associate flowers with beauty and nature.
The Victorians even had a language of flowers: bluebells for kindness, peonies meant bashfulness, rosemary was for remembrance, wallflowers represented faithfulness in adversity – and the red rose, true love.
But that was yesterday. This is today when the cut flower world is far from romantic and is, in fact, symbolic of something entirely darker: an industry with a toxic secret.
As US Mother's Day looms this weekend (in the UK and elsewhere it's on a different day), consider the where those bouquets come from.
Some 80% of the roses sold as cut flowers in the US come from South America; in the UK 90% of our cut flowers come from mostly from Kenya.
A new study from Ecuador, a top producer of the roses that end up in US homes on birthdays and holidays and occasions like Mother's Day and Valentine's Day, reveals a small corner of the big picture of the cut flower industry's heavy reliance on agricultural pesticides, particularly organophosphates.
Brain changes
In a new paper, published in the journal NeuroToxicology, researchers studied the blood and behaviour of 308 young prior to peak US Mother's Day flower production and within 100 days after harvest. The children children who did not work in agriculture but  lived in agricultural communities in Ecuador.
They found that exposed children, examined soon after peak spraying, displayed neurological deficits, such as attention, self-control, visuospatial processing (the ability to perceive and interact with our visual world) and sensorimotor (eye-hand coordination) compared to children examined later in a time of lower flower production and pesticide use.
This is an important discovery which shows that pesticide exposure can produce short- as well as long-term changes in the brain.
A vast range of pesticides, fertilisers and fumigants are used in producing cut flowers from both South America and Africa. Some of these, such as DDT, dieldrin, methyl bromide and methyl parathion are no longer in use, or deemed too dangerous to use, in the industrialised world. But because cut flowers are grown in countries where little pesticide regulation exists, use of these potentially dangerous chemicals continues.
Well known symptoms of exposure to chronic exposure to toxic pesticides and fungicides include: headache, dizziness, nausea, diarrhoea, skin eruptions, respiratory and over the long-term neurological problems and even cancer.
Florists beware
While most studies focus on risks to workers in the developing world, the issues are just as relevant to growers and sellers in developed countries.
In a study last year, analysis of 90 bouquets of the most commonly sold cut flowers in Belgium (50 bouquets of roses; 20 of gerberas, and 20 of chrysanthemums) was carried out. Fungicides (dodemorph, propamocarb, and procymidone) were most frequently detected in samples.
But results showed that roses were the most contaminated cut flowers; with an average of 14 substances detected per sample. Some of the acutely toxic substances included acephate, methiocarb, monocrotophos, methomyl, deltamethrin – regular exposure to which can directly effect on the nervous system of florists.
As the science of chemical mixtures has advanced we know that mixtures of chemicals such as pesticides can have a more potent adverse effect on health than single exposures to single substances.
Think local
Most of us never think about where our flowers come from. But consider that locally-grown flowers may have similar advantages to locally produced food. They will be fresher, and thus have a longer vase life. They may even smell better since many cut flower roses, for example, are bred without scent to extend their vase life. They may also be seasonal and therefore require fewer pesticides and cut down on air miles.
So when buying flowers look for those that bloom closer to home. In the UK, Flowers from the Farm is a network of growers from all over the country that are working to put British flowers back in our vases.  These aren't necessarily organic – but if organic is what you want the Soil Association does certify organic cut flowers, such as those produced by Organic Blooms.
In the US look for the BloomCheck label or certification by organisations that set standards for social and environmental responsibility on imported flowers, like Florverde, Veriflora, or FairTrade USA.
It's great that some retailers, for instance B&Q in the UK, have made a commitment to stop selling bee harming plants growing with pesticides like neonics – but we have to accept that this is as much PR as policy.
Many more damaging practices – damaging to humans as well as the wider environment – continue in the gardening and cut flower industry, and as usual it may be up to the consumer to demand real change.
Pat Thomas, Editor