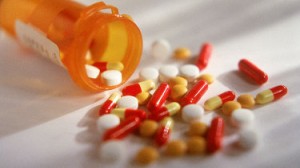 Doctors warn of the risks of painkillers
1 October, 2014
By Staff Writer
Natural Health News
Natural Health News — The risks of opioid painkillers outweigh their benefits for headache, low back pain and other conditions, according to the American Academy of Neurology (AAN).
The new position statement says the risk of death, overdose, addiction or serious side effects with prescription opioids outweigh the benefits in chronic, non-cancer conditions such as headache, fibromyalgia and chronic low back pain.
The position paper is published in the journal Neurology, the medical journal of the American Academy of Neurology.
Opioids, or narcotics, are pain medications including morphine, codeine, oxycodone, methadone, fentanyl, hydrocodone or a combination of the drugs with acetaminophen.
"More than 100,000 people have died from prescription opioid use since policies changed in the late 1990s to allow much more liberal long-term use," said author of the statement, Gary M. Franklin, MD, MPH, research professor in the Department of Environmental & Occupational Health Sciences in the University of Washington School of Public Health in Seattle and a Fellow with the AAN.
"There have been more deaths from prescription opioids in the most vulnerable young to middle-aged groups than from firearms and car accidents. Doctors, states, institutions and patients need to work together to stop this epidemic."
Short-term use, long term addiction
The AAN pointed out several studies that show half of patients who were prescribed with narcotic painkillers for a period of three months continue to take them five years later.
Data from the US Centers for Disease Control and Prevention also reveal that drug overdose has increased three times in the past two decades and that more than 12 million individuals has claimed using narcotic painkillers without prescription or for non-medical purposes in 2010.
A review of the available studies showed that while opioids may provide significant short-term pain relief, there is no substantial evidence for maintaining pain relief or improved function over long periods of time without serious risk of overdose, dependence or addiction.
Given the implications of using these drugs such as serious side effects, addiction, overdose and death, the AAN said that health service providers should look for other ways to help their patients manage pain. Abuse and misuse of the drug, in particular, has raised a red flag as this could lead to addiction and even death.
The AAN recommends that doctors consult with a pain management specialist if dosage exceeds 80 to 120 (morphine-equivalent dose) milligrams per day, especially if pain and function have not substantially improved in their patients.
Risks for non-opioid painkillers as well
In a related study, common painkillers such as aspirin and ibuprofen almost double the risk for deep vein thrombosis (DVT) and pulmonary embolism, two lethal conditions.
The researchers made the discovery after reanalysing six studies, which involved 21,401 cases of VTE.
Known as non-steroidal, anti-inflammatory drugs (NSAIDs), and available over-the-counter these are some of the most widely used painkillers in the world in the world.
But say researchers from Bassett Medical Centre in New York, the risk is "significant", and doctors should be aware of this risk, especially among patients who already have a history of DVT or venous thromboembolism (VTE).
In 2012, in response to the alarming rise in painkiller use in the UK the National Institute for Clinical Excellence (NICE) issued new guidelines for painkiller prescriptions which included working with patients to understand, or treat, the root causes of pain or painkiller abuse as well as information on when painkillers can actually make pain worse. For instance NICE estimated that around 1 million people in the UK are suffering headaches caused by medication overuse.