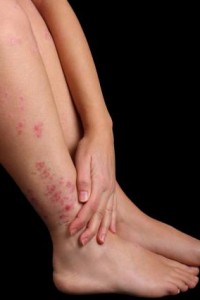 Supplementing with Vitamin D could help atopic dermatitis symptoms
15 August, 2013
By Staff Writer
Natural Health News
Natural Health News — Vitamin D supplementation could improve symptoms of atopic dermatitis, according to new research.
Atopic dermatitis (AD) is a chronic inflammatory skin disorder related to eczema. It is characterised by red, itchy skin that can flare up or go into remission at any time. The skin lesions can easily become infected making the condition worse.
In this study, published in the Journal of the American Academy of Dermatology, the researchers evaluated 95 men and women between the ages of 18 and 50 age suffering from AD, and compared them to 58 healthy individuals. Vitamin D levels were assessed and compared between the two groups, and severity of AD was measured by a dermatologist.
Average vitamin D levels were not statistically different between the AD and control groups though the men in the study had significantly lower levels than the women. Nevertheless the frequency of bacterial skin infections and winter flare ups of AD were higher in those who had lower vitamin D levels. In all, 82% of those with low levels of vitamin D (below 30 nanograms per millilitre of blood) experienced bacterial skin infections compared with 17% patients with normal levels (30 ng/ml or higher).
The results echo those of another study, published earlier this year, which also showed a link between low levels of vitamin D and AD.
Immune protection
According to the authors the benefits seen are likely because of vitamin D's immune protective properties.
After the initial assessment the researchers set out to test this theory by selecting 22 patients with the lowest vitamin D levels (7 ng/ml) who had histories of skin infections. These individuals were given a daily supplement of 2000 IU vitamin D3 daily for 3 months.
On average vitamin D levels nearly doubled to 13 ng/ml, although none of the participants reached normal levels. Following supplementation, AD symptoms significantly improved, as reported by a dermatologist evaluating the participants before and after treatment.
The researchers call for large scale, randomised trials to further explore their results.