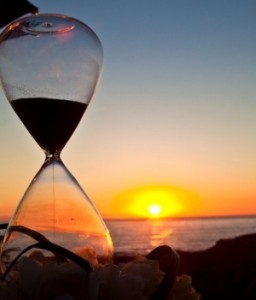 Change your life: Who knows where the time goes…
30 June, 2014
By Annabel Sutton
Natural Health News
Time is fast becoming one of the most precious commodities of the 21st Century – yet if I was to ask you to describe how you spend your time, would you be able to tell me?
Everyone complains of being 'too busy' but what exactly are we all doing? How are we choosing to spend our precious time?
In the past couple of weeks I've found myself getting to the end of the working day and wondering what on earth I've been so busy doing all day. Am I using my time wisely? Am I being productive? Are my activities moving me towards what I want to achieve and what I hold to be important?
"To choose time is to save time." — Francis Bacon
If you find yourself asking the same kinds of questions, here's an exercise which will hopefully give you some answers:
For the next week try keeping a time log.
I keep as accurate and detailed a record as you can of everything you do each day. Then at the end of each day – and the week – do an analysis of where your time goes.
I often ask clients to do this and the results can be a real eye¬opener.
The first time I tried it I was shocked to discover that I was spending 2-3 hours each day just on emails and, even worse, that I was typically working 10-12 hour days. Well that had to stop!
The thing was, that until I did the time log and saw it in black and white I honestly didn't realise how much time I was wasting.
Once you know exactly where your time goes, you will be in a far better position to take control and make some clear choices.
Annabel Sutton is a Professional Certified Coach and Author.  She has lived in Los Angeles and Indonesia; survived earthquakes and riots, lived with head-hunters and enjoyed a portfolio career.  She now enjoys a somewhat quieter life in Somerset!  Her latest book, 52 Ways to Transform Your Life (Weekly Wisdom for Busy People), contains 52 inspiring, quick-to-read life tips and is available from http://amzn.to/2nSdMb2 . Find more information at  www.annabelsutton.com.