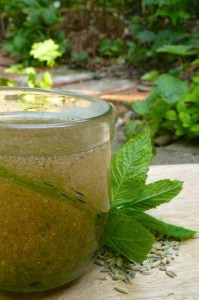 Fibre blend
14 July, 2015
By Staff Writer
Natural Health News
A very quick, tasty and easy to make food-based remedy.
This is a great bulking fibre blend with soothing properties to use if you're prone to poor elimination, bowel irregularities or want to give your bowels a spring clean when detoxing.
Ingredients
50g chia seeds – A great source of natural fibre plus omega-3 for digestive health
25g psyllium husks – A bulking laxative that helps to improve peristalsis of the gut
5 tsp dried peppermint leaf – Calming for irritable digestion
5 tsp fennel seeds – Calms bloating and wind
5 tsp slippery elm powder – Soothing to irritable digestion
Method
1 Blitz all the above ingredients in the grinder attachment of your blender until it forms a fine powder (approximately 2 minutes).
2 Store in a clean, dry jar.
How to take
Mix one teaspoon with 250ml of cool water, stir well and drink immediately before it forms a gel.
Recipe © Neal's Yard Remedies


Top News Stories
Keep In Touch
Please subscribe me to your newsletter mailing list. I have read the
privacy statement